If you're looking for a book set in Verona, Italy, check out Richard Hough's "Notes from Verona": Reflections on family life from inside locked-down Italy. I had the pleasure to chat with Richard Hough about his book on life in lockdown Italy and living in a place like Verona. Let's find out more about him and the city of Verona.
Notes from Verona: a book on life in Lockdown Italy
1. Ciao Richard, welcome to Italophilia! Tell us about yourself and your current life?
Hi Ishita! We've been following each other for a while on social media, so it's great to finally get the chance to speak to you!
I grew up in Glasgow, then spent ten years living and working in Edinburgh, before moving to Verona in September 2011.
My wife has Italian origins and between its football, culture and history, I've always held a strong fascination for the place too.
People think I've got an easy life here in Verona, but I've got two kids, am currently writing two books, run two football teams, a fanzine and a blog, all while trying to earn a living as a teacher! Somehow, I still find time for the occasional glass of wine or spritz!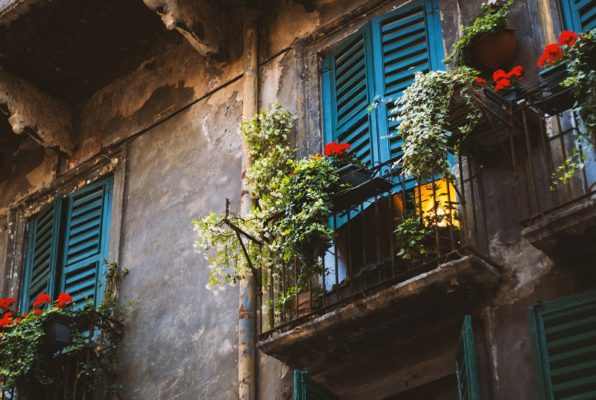 2. Glad you do! You've chosen a very special city to live in Italy. Why Verona??
Actually, we got lucky – Verona chose us!
We'd always dreamed about coming to live in Italy one day, but we thought it would be later in life and probably to Tuscany, where my wife's family are from. Out of the blue, she was offered a job in Verona, with the pharmaceutical company she was working for at the time.

richard hough
To be honest, I didn't know that much about Verona then, so when my wife called me to tell me about the job offer, I had to go to a local bookshop to pick up a guidebook.
The book was full of wonderful images of sun-drenched piazza, ancient monuments and stunning lake views. I can't believe that fairy-tale place I read about is now our home!
Five minutes later I called her back to tell her to immediately accept the offer before they could change their mind.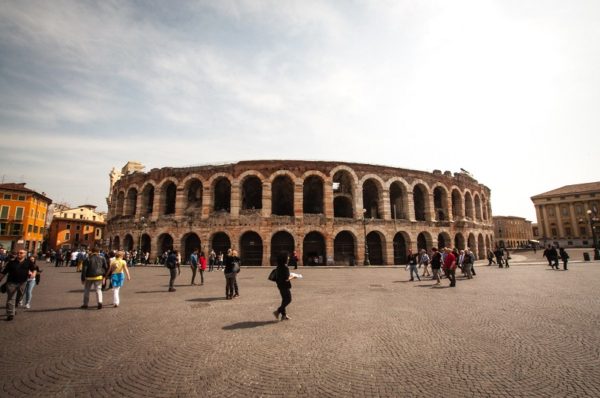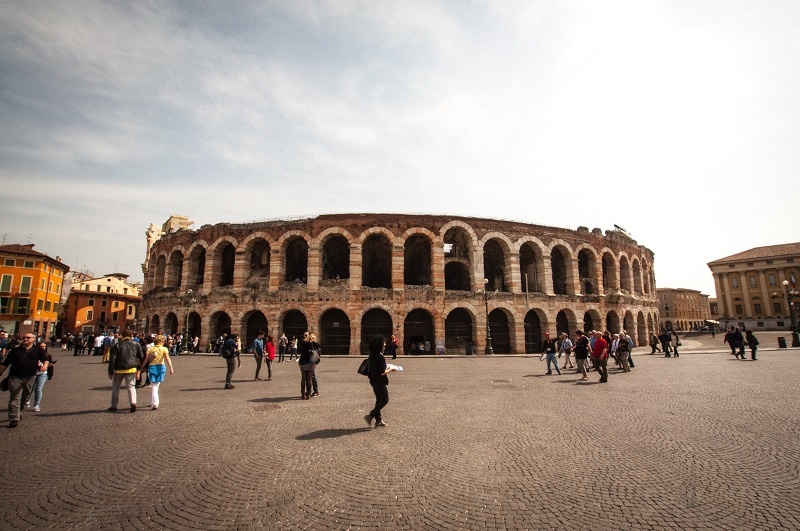 As it turned out, Verona has been perfect for us.
Verona is a beautiful, small, peaceful city, the ideal place for our family. Verona is full of history and culture and great food and wine too, fantastic weather, short cold winters and long hot summers. And plenty of football too! It's also a great base from which to explore the rest of Northern Italy.

richard hough
We originally thought we might stay here for two years – that was nearly ten years ago!
3.  What a story! Fabulous. So what according to you are three underrated places in Verona?
The fantastic thing about Verona is that it's one of Italy's great artistic cities, but when you visit you don't feel under any pressure to rush from one gallery or museum to another in the way that you might with Rome, Venice or Florence.
Instead, it's just a great city to take a passeggiata, soak up the wonderful architecture and enjoy a spritz or glass of wine along the way. My three tips would be:
Castel San Pietro
Castel San Pietro is a hill immediately above the most historic part of the city. It's been inhabited since Roman times. The old Romanesque church that gives the hill its name was built in 1398. The church was destroyed by the French in 1801 and in its place now stands a derelict Austrian fortress.
To be honest though, the fortress is the last thing that one comes up here for! Instead, this is one of the best viewpoints of the entire city.
I try to go up here 2/3 times a year, bounding up the steps two at a time and arriving at the top, bursting for breath and speechless at the incredible view of the city, with the Teatro Romano and Ponte Pietra immediately below. It's a great place to recharge and marvel at the staggeringly beautiful city laid out below.
Run along the Adige river
Another top tip is to follow the course of the Adige out to the dam at Chievo. The road is closed to traffic on a Sunday, so it is best to grab a bike, roller blades or skateboard, or just run along with the locals.
From Parco Arsenale on the other side of the Castelvecchio Bridge, it's just under five kilometers along the river to the sleepy village of Chievo.
The best way to experience and work up an appetite is an early morning jog or walk along the river. It is possible to cross the dam at Chievo and return on the other side of the river, passing through the San Zeno neighbourhood on the way back to the city centre.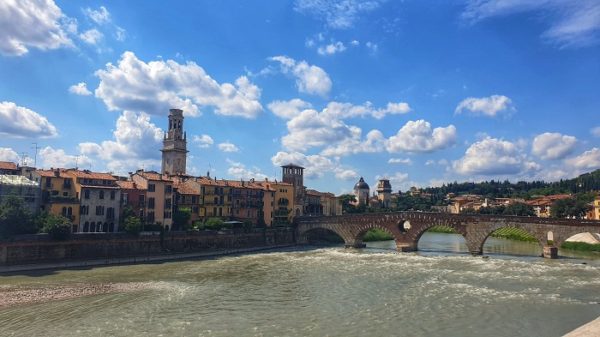 Antica Bottega del Vino
Another underrated thing in Verona in a tasting at Antica Bottega del Vino– a great place to have some of the best wines in the cities. It is hidden away on one of the narrow streets off via Mazzini and has the best local specialties.  
The place is full of personality and bustling with local characters. Antica Bottega del Vino is an ideal choice for a simple glass of wine or something more substantial if one's feeling peckish.
Here one can enjoy a local glass of wine, a Valpollicella Classico or the famous Amarone, in one of the oldest and most famous wine cellars in the city.

richard hough
4. Superb, sounds amazing. I'm curious to know your thoughts on Juliet's balcony? Is it real? Tell us a little more about this touristy spot in your city.
Of course Juliet's balcony is real! But like most legends, the origins of the balcony are shrouded in mystery and confusion.
The Montecchi (or Monticoli) and the Cappelletti were amongst the most important Veronese families from the medieval period, and the thirteenth century villa where the balcony now stands was once inhabited by the Cappelletti family.

richard hough
Shakespeare was inspired to write his great tragedy by a poem by Arthur Brooke, The Tragicall Historye of Romeus and Juliet, who in turn drew on older works by Italian writers, Luigi de Porto and Matteo Bandello, who wrote about the deadly feud between the Montecchi and Capelletti families.
It is surprising to learn that Shakespeare's play contains no reference to a balcony- an architectural feature that didn't exist in Tudor England!
Instead, Shakespeare wrote that Juliet 'appears in a window above'. It was only centuries later, following various re-interpretations, that the 'balcony scene' as we now know it. It is then that the romantic, sexually charged and an indelible part of our literary heritage, began to take shape.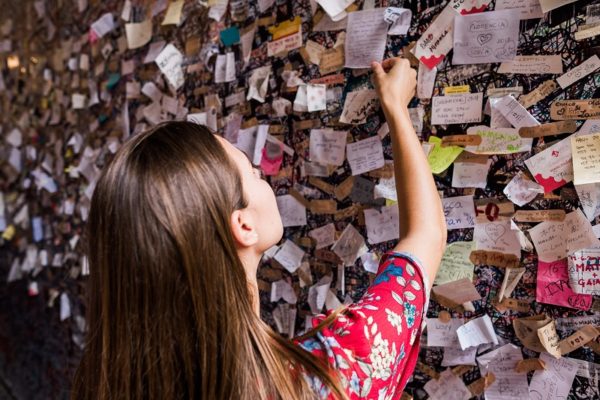 In fact, the balcony itself was installed during the Mussolini era, when two Hollywood film directors visiting the city expressed their amazement that the famous balcony did not in fact exist.
The city authorities were persuaded to rectify this anomaly and in 1937 a sarcophagus was attached to the exterior of the Cappelletti villa to create a balcony!
Nowadays, the site is a rather unedifying tourist trap, surrounded by trinket and souvenir shops, covered in graffiti and discarded chewing gum, which have themselves become as iconic as the balcony itself!
During the lockdown I've popped into the deserted courtyard a couple of times. Alone, without the hordes of selfie-taking visitors, it's impossible not to be captivated by this hauntingly romantic place, if only for a moment.

richard hough
5. Tell us about your book "Notes from Verona: Reflections on family life from inside locked-down Italy." How did the idea culminate??
In 2020 as Italy was engulfed by the pandemic and was in lockdown, I started to keep a diary of daily life under the lockdown.
With Italy at the epicenter of the global crisis, I was inundated with enquiries from friends, family and others who were concerned about how we were coping and what life was like under the lockdown.
I decided to publish my diary entries online on www.notesfromverona.com, and once again the response was overwhelming. I kept the diary going until the beginning of June, when the lockdown was finally lifted.
I've always wanted to publish a book (in fact I've spent the last couple of years research and writing my next book about wartime Verona), and so at the end of the lockdown I decided to publish my diary as a short book.

richard hough
The book basically tells the story of our experience of lockdown, from an emotional overnight drive over a snow-filled mountain pass to collect our children as the lockdown began, to a gentle meander along Verona's winding river in a canoe as it was gradually eased.
Of course, this being Verona, along the way there is the occasional detour into the history, culture and cuisine of this wonderful city.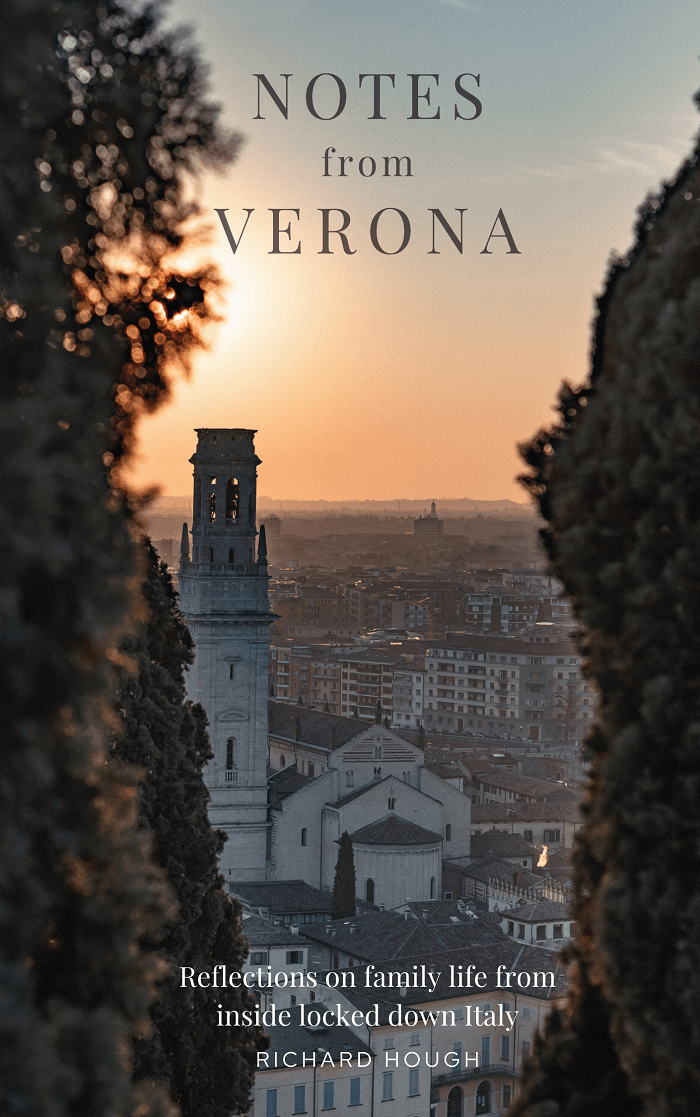 6. Thanks for sharing, Richard. How can we be a part of your community?
I'm pretty active on Twitter and love hearing from anyone who has been to Verona or is planning a future trip. You can also keep track of my writing and other adventures at my website
Read next:
Pin this Post: