The Circumvesuniana is a great option to see the area around Gulf of Naples and explore hidden gems of Campania. There is a lot of Internet hullabaloo and negativity when it comes to taking this regional train. Stories of pickpockets lurking in the train and station area, generally make the travelers wary. While I was aware of these and quite hesitant to take the train on my last trip, I also knew it was the best and quickest way to get to my destination. And as it turns out, my experience was not as bad as I thought.
Circumvesuviana train- easy way to explore Gulf Of Naples
I simply stood close to my luggage and was generally more aware about my surroundings. It all comes down to being mindful and maybe it sounds like a very cliché advice but all you have to be is alert. The minute you're a little easy on your surroundings, anything can happen.
The regional train can be boarded from the Naples Garibaldi station and reaches the final stop, Sorrento in 1 hour 10 minutes. The Circumvesusiana is not a fancy or luxurious train service. It has mixed trains, some modern while others run down and quite sub-urban. In any case the trains are clean, fast and convenient.
If you're boarding from the Garibaldi train station, it has no escalators but on the positive side the trains run very frequently. So if you have a lot of luggage and you miss a connection, you will find the Circumvesuviana on the platform every half hour.
A lot of tourists were taking the local train to see Herculaneum (Ercolano scavi) and Pompeii (which I skipped on my trip because of the heat). I was visiting Castellammare di Stabia and paid less than EUR 3 for a 50 minute trip!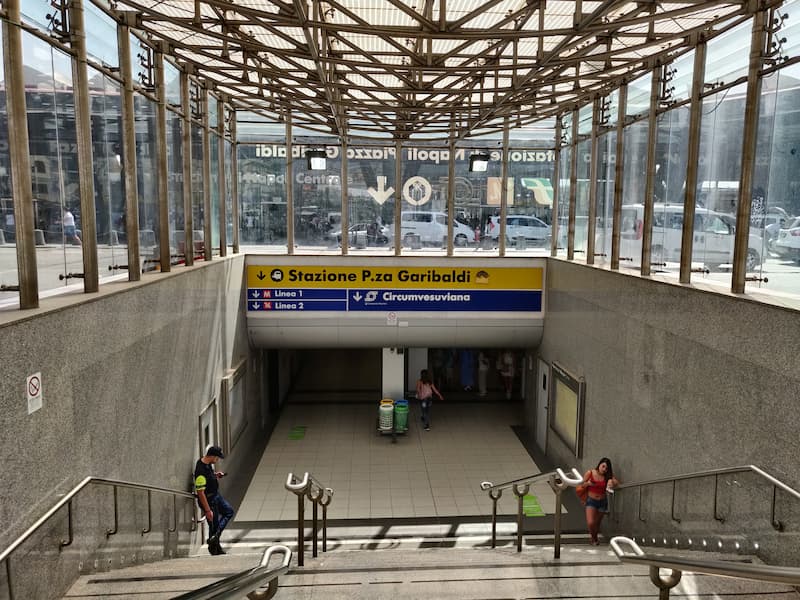 Travel Tips for Circumvesuviana
Always keep cash/change handy to book your ticket at the station because there are no pre bookings.
Be alert of your belongings- this is a general travel tip but SO important because of pickpockets in the area!
Avoid anything ostentatious– no fancy watches or jewellery please!
Be prepared to stand as this train is always completely full.
Always check the route map beforehand to know you're getting down at the right stop.
Don't miss the announcements on the way that warn you of the next stop! Also please remember that the train will not stop at all the stations.
Don't be hesitant to take the Circumvesuviana – it is nothing but a regular train connecting different places of interest in Campania. You can explore a lot of the area of the Bay of Naples with the Circumvesuviana.
Travelers like yourself are all trying to stay safe so maybe the next time you see someone scared on the train, pass on a smile and the world will be a better place 🙂