I hadn't explored all of Rome's neighborhoods so one morning I decided to take a walk in the lesser known neighborhood of Testaccio. What bliss it was being away from the crowds! It was local life at its best! The Testaccio market is full of 2 unique finds- Trapizzino (which is also now in other parts of Rome!) and Tram Depot- a unique place for a coffee in Rome!
Testaccio, Trapizzino and Tram Depot
TRAM DEPOT
From the Testaccio market towards the main piazza, keep walking till you reach the end of the road on the right. There is an old tram converted to a kiosk serving coffee and it is aptly named "Tram Depot". This place is a serious WIN WIN if you are looking for quirky Bars in Rome. The brilliant garden swing, sitting area and retro styled chairs are adorable!
I enjoyed a fresh cornetto and cappuccino along with a very friendly service. I also loved talking in Italian to the couple sitting next to me although most of it concerned about the many pigeons in the area! 😉
Address: Via Marmorata 13, Rome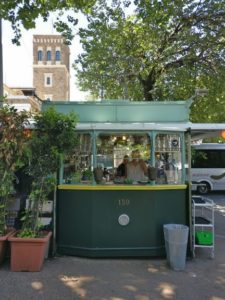 TRAPIZZINO
After a long coffee break, you might feel hungry like I did! So search for the street food craze called Trapizzino in Testaccio.
In simple terms Trapizzino is a small triangular shaped bread pizza filled with delicious toppings of your choice! The store is tiny and located in the main centre of Testaccio neighborhood.  There is so much to choose from but go for the classic flavors of eggplant parmesan and marinated artichokes like I did. (Oh Italy!!)
Later, I also packed a polpette al sugo (meatballs in tomato sauce) to go along with my chilled beer. Trapizzino costed €3.50 (current prices may vary).
Address: Via Giovanni Branca 88, Rome
Testaccio is where you'll see the Romans! This is where local life is at its best- people going about their businesses, shoppers at Mercato Testaccio, nonni playing with their grandchildren, women chatting with the butcher…..I highly recommend you to visit this part of Rome!
Read Gillian's experience of visiting the Tram Depot!