Who doesn't love quaint Italian villages and towns?? If you are in Italy or traveling there anytime soon, here's a list of 10 charming and scenic small towns. Although this list is not exhaustive, it certainly includes many of my favorites. Hope you enjoy!
10 Charming Small Towns in Italy
1. Perugia:
Now I now that Perugia is not really a small town but it isn't a big city as Rome either. I love the coziness this town brings. Perugia is situated in the central Italian region of Umbria and is famous for it's annual chocolate and jazz festival.
The town is still quite unknown to a first time Italy traveler so take a chance and visit it before it gets crowded! 
Perugia has a rustic medieval beautiful with stunning piazze that will give Game of Thrones a run for it's money. I hope it never gets run down by mass tourism and selfie sellers.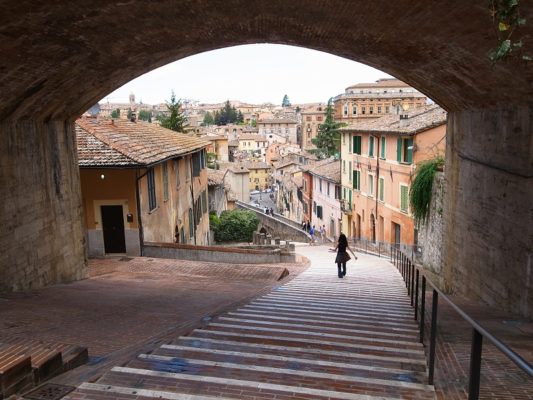 How to reach: Perugia is well connected by train from all of Italy. From Rome airport, take the Sulga bus that takes you directly to the centre of Perugia! 
2. Montegiove:
Deep in the green heart of Italy and quite close to Perugia is Montegiove. This tiny village has an ancient castle, a single Bar and a historic convent of La Scarzuola.
Montegiove is peaceful and relaxing because there is literally no one there! It makes a great base to see other towns.
The small towns in Italy list keeps getting interesting, no??
How to reach: Montegiove can be best reached by hiring a car. It is only an hour from Perugia.
3. Gubbio:
Gubbio is also a charming town in Umbria that you must visit.
It belongs to the Pre Roman era and has Gothic styled architecture. Gubbio also has a beautifully preserved Roman theatre and hosts the ancient festival called Festa dei Ceri.
Read here to know more.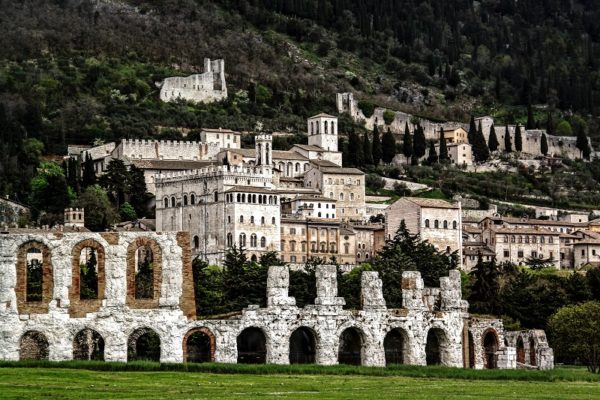 How to reach: There is no train station in Gubbio. Regular buses run from Perugia and other nearby towns.
4. Monteriggioni:
Another small Italian town to add to your list is Monteriggioni. Located in the region of Tuscany, Monteriggioni is a walled town with a special magic.
Most travelers visit Pisa, Siena, Montepulciano, Volterra but this Tuscan town is usually missed. The walled village has an old world feel with its small piazza and characteristic streets. It also has a medieval castle and is surrounded by the glistening Tuscan countryside.
5. Portovenere:
The region of Liguria is filled with unlimited colored towns and a stunning expanse of the Ligurian sea.
I know the Cinque Terre is very popular but travelers often overlook it's neighbor Portovenere. It has a stupendous sea view, an old castle and history from the times of Lord Byron.
How to reach: Portovenere can be reached by bus or ferry from La Spezia or Cinque Terre. 
6. Muggia:
Located in the North Eastern region of Friuli Venezia Giulia, Muggia is another charming port town. It is only 30 minutes from the capital city of Trieste. 
Muggia is town is dotted with small yachts on its harbor and several Bars and restaurants. It has a rich Venetian architecture.
Muggia made me feel like I was in an Enid Blyton novel. Highly recommend you to visit the town and check out 10 exceptional things to do in Muggia.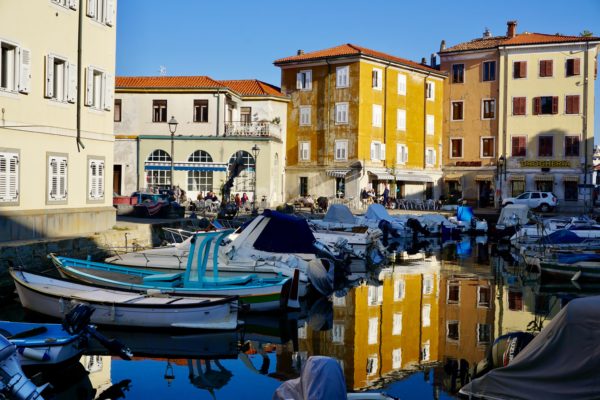 How to reach: Muggia is best reached by taking bus 20 from Trieste.
7. Modica:
Coming down south, Modica is a town that should not be missed. Every chocolate lover should add this Sicilian town to their list.
Modica is old and forlorn. But it is also charming in it's own ways. It is fun to wander the streets by yourself and remember the shooting locations of the famous TV series "Inspector Montalbano" based on the books by Andrea Camilleri.
How to reach: Modica can be reached from all major of cities of Sicily by bus. There are regular buses from Catania airport that take about 2 hours.
8. Scicli:
Another small town to add to your Italian list is Scicli.
This is yet another old and forlorn town that is in Sicily. It has ancient cave dwellings and crude cliffs from centuries ago.
In Scicli you will find locals hanging out at the piazza, mostly men, while the women stay confined in their homes to gossip and cook (or so I am told).
How to reach: Scicli can be reached by bus from Catania airport that take around 4 hours. The service is only thrice a day!
9. Burano:
Burano must not be missed if you're visiting Venice. Only 30 minutes from the serene city, Burano is famous for handmade lace and bussola (a type of a biscuit). 
This village is like no other I've seen in my life. Burano is famous due to it's colorful architecture and vibe. According to legend, each home here was colored differently so that the fishermen could easily find their way in the fog. 
How to reach: Burano can be reached from Venice by ferry.
10. Locorotondo:
Last but not the least is the charming Italian town of Locorotondo. Located in the region of Puglia, Locorotondo is perched on a hill top. 
It has white lanes and maze like streets and will outsmart every other Puglian town you visit. The surrounding area has olive groves and trulli homes. Locorotondo will enthrall you with it's beauty!
How to reach: Locorotondo can be reached by both train and car from any of the towns in Puglia. 
Have you been to these towns in Italy?? Which one is on your list??
Read Next:
11 Pictures to make you fall in love with Tellaro
Pin the post: