Visiting Rome and in search for a good coffee place?? There are a tad too many Bars and cafes in Rome (its Italy after all!) but here are 5 of the best Cafes that you can enjoy a coffee #WhenInRome.
5 Cafés to try #WhenInRome
1. Bar Farnese- An old fashioned and vintage bar that would make you cry! 
Bar Farnese will put a smile on your face because it is a true Roman experience. Thanks to the owner Angelo and his courteous staff, even being right in the middle of Campo de' Fiori, doesn't make Bar Farnese expensive. In fact a cappuccino costs around €1.3 and if you order two with a two pastries, you won't spend more than €6-7! Farnese has a no frill service and is perfect for people watching.
Do not confuse it with Caffe Farnese which is close by!
Via dei Baullari 106, Rome.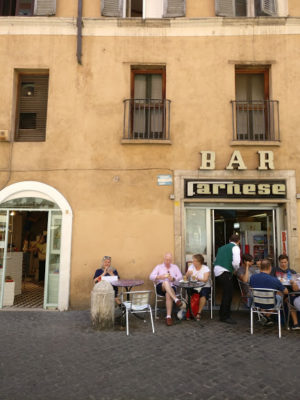 2. Pasticceria Trastevere- Hands down one of the best pastries I've had in Rome.
Pasticceria Trastevere is in the picturesque neighborhood of the city. It focuses on offering its customers delicious choux puffs filled with cream, custard, chocolate…..This place is close to the Trastevere tram spot and a great place to have coffee in Rome. Sit outside and enjoy the view. 
Via Natale del Grande 49, Rome.
3. Antico Caffè Greco– An old world cafe where writers such as Byron and Goethe frequented!
I went there for fresh juice and caffè and a juice only costed me around EUR 7-8! Even though it was a costly affair, I wanted to enjoy visiting the second oldest cafe in the country! Greco has an unmistakable charm like the vintage cafes of Vienna and is truly an old world experience.
Via dei Condotti 86, Rome.
4. Roscioli Caffè- Roscioli is a household name in Rome and also includes Salumeria Roscioli and Restaurant. 
I'll never forget my first experience of Roscioli on a hot day in Rome. I munched on the freshest panino here. Standing at the narrow bar counter and enjoying the Roman service was my idea of fun. Is it yours?? If yes, don't miss Roscioli! It is a great find in Central Rome and has delicious coffee and maritozzo- Roman pastries filled with cream. There is free WiFi but their service can be a tad edgy at times!
Piazza Benedetto Cairoli 16, Rome.
5. El Mojitaro Bar- Simply the most famous and photographed Bar of Trastevere
This is another no frills bar with an owner who loves to chit chat. Located in the picturesque alleys of Trastevere, this bar has excellent service and stunning street views. Their cocktails are expensive than most. A simple cappuccino is worth ordering to enjoy the street view outside.
Vicolo del Cinque 5, Rome.
Apart from the ones above I also love Caffè Peru, San Eustacio, Bar Willy and Bar San Calisto. Have you tried any of these?? I'd love more recommendations for my next trip!!
Read Next:
My Experience of Learning Italian
Pin this Post: