Today on Italophilia, I'm very proud to welcome my online friend Elfin Waters! A passionate Italian who hails from Gaeta, Elfin is the owner of "All About Italian" through which she creates Language Retreats for learners of Italian. She is also the co-owner of the podcast "Con Parole Nostre".
Being a teacher by professioner, Elfin's focus on learning a language is amazing and she regularly posts this on her Instagram Stories no matter how busy. Her mantra is simple- there's always time to fit learning during the day and that too in a joyful way! Elfin will be sharing her thoughts and knowledge on how to learn Italian through Instagram!!
Welcome, Elfin!!
Hi Everyone.. I just wanted to say that if you're able to fit in Instagram in your daily life, you can fit language learning around that. Instagram is an amazing tool for language learners. For starters there are tons of teachers on IG, like myself for instance. Teachers post a picture or a short video with a relevant piece of language for the day and learners get to pick all levels of language.
How do you find other teachers or language learners??
Through hashtags (#)- these are an important source of categorizing content on social media and Instagram where they pretty much run the show.
How you can find hashtags??
If you're learning Italian, you can simply start with #learnitalian and search it as a hashtag as shown below. But it doesn't have to stop there. You can use them to look up words you are learning and help memorize vocabulary. Let's say you're not quite sure what the word papavero means. So you can write to the IG search engine and get many pics of papaveri. (Explained in picture) That will give you a visual hook that will make the word more memorable. Nice, right??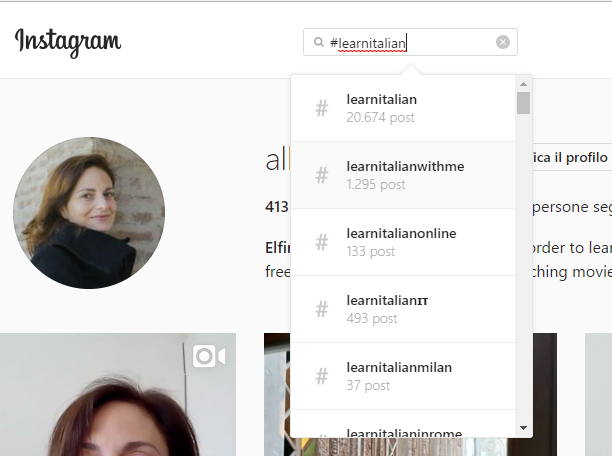 So, how are you actually learning a language by skimming quickly at a post from an Italian account? Very little probably. That's why practice comes in.
You really should use your down time, say the line at the supermarket, or time while cooking, to skim and see what is relevant to you. Listen to songs and podcasts and watch videos. Whenever you see something you think could be helpful to you, bookmark it!!
In IG under every post, you can bookmark to review later. IG even has added folders to help keep everything organized. So if we are online and we see something relevant like a grammar rule or a nice idiom, we can just save and bookmark the picture. Exploring the Instagram App is essential to get a feel of it and when you are free, whip out your notebook or even phone and start going over your saved posts.
If you're feeling brave, leave a comment on the picture or video that you liked and practice the language presented. If you don't feel up to that yet, just jot your comment down. It is normal to feel shy about leaving comments so make sure to keep all your notes in one place. When they add up, even after a week, they will give you a sense of accomplishment.
Is there anything else I can do??
A few ideas from Elfin who is learning Spanish: Since I am learning Spanish, I realized that teacher accounts were great but weren't enough to keep me going. So, I went in the search explore part of Instagram and started looking hashtags with the word Spain in it.
That is how I followed Spanish accounts that talk about going to Spain, which is what I hope to do and these will keep me inspired. Plus, I also get exposed to Spanish in other contexts. Tiny things always add up to something bigger. So, even if I don't have time to crack those verb tenses, or that grammar book, I do have time for IG and that exposes me to tiny moments of native content. 
Make sure you check out the comments on videos/pictures because they provide a lot of interesting language tips.
Similarly, if you're learning Italian or you probably are in love with the country, what better way to keep you motivated in your studies than to follow accounts that showcase Italy?? Start with classic accounts such as IgersRome and IgersItalia and then you'll quickly find more account suggestions on the IG App. Join a community and share your passion: Join a language challenge.
These are organized by teachers on IG where you are supposed to commit to posting one video/picture a day for a month on words/topics suggested by the teacher/organizer. At the end of it, you get feedback from fellow learners which gives you the feeling that it's alright to make mistakes and that we are all in this together.  For more detailed info on how to join a challenge check this blog post.  Remember, you can't do this alone. And why should you??
Learning a language is about connecting. Share on Instagram Stories!!
Lastly, I can't recommend following IG stories enough. It's a great source of motivation and learning the local language. IG stories are similar to Snapchat where you post a picture/video and talk about your day or just share snippets of your day. These help to know local life to a language learner. Do remember that these stories are not like IG posts and disappear after 24 hours. This also means you can keep adding more daily. IG Stories are a great way to practice your listening skills and learn new vocabulary. 
An Italian account on IG stories I really recommend is @lucreziaoddone from Learn Italian with Lucrezia. Follow her! My only recommendation would be not to get lost in the process as Instagram is a very addictive app. Also do remember, it shouldn't be your only source of study!
Grazie mille carissima per la tua ispirazione!
For more tips on learning Italian click here!
Further Reading:
Pin this Post:
In the comments below, let m know if you use Instagram to learn Italian or any other language??