Italophilia is pleased to present Eleonora Tramonti- the face behind the blog Italian Storytellers! Eleonora will be sharing her thoughts about the Italian language and and inspire you to keep trying no matter where you are learning from. Let's learn more about her and Italian Storytellers:
Ciao Eleonora. Tell us how did Italian Storytellers originate??
Italian Storytellers was born in 2014 because no Italian would write about Italy in English. So that's when I decided to create a blog where people from abroad could read about Italy in a particular way. Everyone knows that Italy has Rome, Florence, Venice… but nobody tries to understand what is standing beyond all of our most famous things. Italian Storytellers is about living like a local.
Nobody knows what being Italian means, they only know what movies and books tell them about us. For example, I hate the movie "Eat, Pray, Love" because it's full of stereotypes. We are not that movie. Italy is more than that.
You are based in Le Marche. Tell us how is the region suitable for students who are learning Italian language??
I don't really know where foreigners can learn Italian in Le Marche since it's not a typical destination for learning Italian. However, it is very easy to meet people with whom you can talk in my region. People are friendly and warm and you would love to practice the language with them! It is a great place to visit and immerse.
Can you list 10-12 Italian words for an everyday traveler??
SI!
Scusi, dov'è il bagno? = Excuse me, where is the toilet? (when you have your "urgent" needs it's fundamental to know how to ask where is the toilet)
Dove posso prelevare? / Dove trovo un bancomat? = Where can I withdraw money? / Where I can find an ATM? (You should have some money with you, because we are not used to pay everything by credit card)
C'è un bar qui vicino? = Is there a bar nearby? (Bar is not only a place where you can order a coffee, but where you can go to the toilet, buy a bottle of water, have something to eat etc.)
Qual è il ristorante tipico qui? = Which is the typical restaurant here? (One of the things to do in Italy? Eating local!)
Dove posso comprare una bottiglia d'acqua? = Where can I buy a bottle of water? (Walking under the sun gets you dried)
Posso pagare con carta? = Can I pay by credit card? (Bank commissions are higher in Italy than other countries and so you could be denied this method of payment)
Dove si trova questo hotel? = Where is this hotel? (Getting lost in a new place is very easy, therefore it's better to know how to reach your hotel)
Come arrivo a… ? = How can I get to…? (Moving around in a new place could be very stressful. Better asking to locals where do you have to go).
Posso avere una confezione di aspirine? = Can I have a pack of aspirins? (Sometimes you can feel sick and an aspirin can solve some problems).
Mi sento male = I feel sick (To receive help when in need it's better to know how to say you are getting worse)
Thanks Eleonora, I'm sure these are going to be super useful for the readers!
What tips would you give to someone learning Italian outside of Italy??
The same tip that people gave to me when I started to learn English. Talk with Italians. Talk talk talk!! Learning and speaking are two different things. For example, remember that slangs are not explained in any book but we all have our own slangs. So just talk and learn the language of the locals!
Thank you Eleonora for being so honest about your country and your language.
Grazie mille per la tua ispirazione!
Explore how it is to live like a local with Italian Storytellers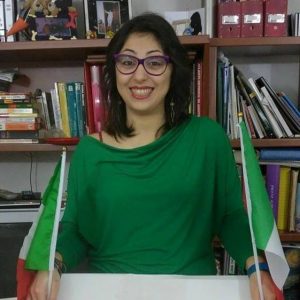 Related Reading: