Are you an intermediate student of Italian language searching for the right book to read?? I have tried and tested various types of books over the past 2 years and I'm here to share my two cents. Hope you like this selection of 5 Italian Language Books for Intermediate level students.
5 Italian Language Books for Intermediate Level
1. Dual Language Dictionary- Dizionario Eng-Ita
If you're an intermediate Italian language learner, I highly recommend you to read a dictionary. Didn't we all pick new English words from dictionaries when we were young?? In the same way, try this in Italian. I bought my pocket sized Dizionario years ago and it is my most useful purchase so far.
This dictionary is easy to use and handy to carry around in my bag. If you have a habit of checking new words often (me!) and read a lot (again me!), dictionaries are helpful to have both English and Italian words in one place.
My husband, who doesn't speak Italian, finds it very appealing and often checks English words and then their Italian counterpart.
2. Any type of Children's books
Children's books in Italian are extremely beautiful and vivid, offering insight into what the younger generation is taught in the early years.
At Salone del Libro, the annual International book fair of Turin, I discovered several children's books. Publishers such as Sefa and Giunti Kids are popular for children and I recommend these for all intermediate students. These books are not very easy to read for foreign language learners, despite being written for children.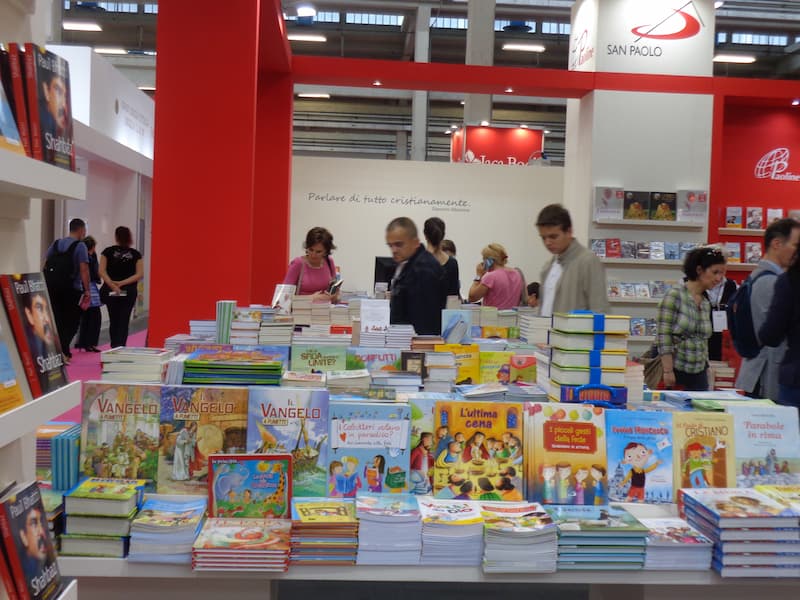 3. Nuovo Espresso Course Books
All intermediate students must stick to a good grammar series. Grammar books aid in improving base and vocabulary of the language.
One of the Italian language grammar series that I highly recommend are the Nuovo Espresso libri. I have been using them for years now and talk more about them in this post.
These Italian language books are available for all levels from level A1 to C2. Nuovo Espresso books include diverse cultural topics, grammar exercises and useful tests. Highly recommend!
4. Dove mi trovo by Jhumpa Lahiri
An Italian language novel that I recommend to my fellow intermediate students is Dove mi Trovo by Jhumpa Lahiri, published in English as Whereabouts.
I suggest buying or borrowing both versions and reading them alongside to see how much you understand. This strategy is very effective in dual language poetry reading too. Thanks to my pal Stacy for this idea!
In this video, I'm reading a passage from both versions of the book:
5. Bar Lume series by Marco Malvaldi
Another Italian language novel that I recommend to read is the Bar Lume series by Marco Malvaldi. A very kind Italian saleswoman in La Feltrinelli, Rome recommended me to read his books.
Back then I had no idea that the author was a popular writer of a mystery series set in Tuscany nor any clue that the books were also made into a hit TV show!
The Bar Lume series are lightweight mysteries set in Tuscany that intermediate students can easily grasp. The books are written in an easy manner with enjoyable plotlines and a sense of irony. Highly recommend these books to read on yet another Commissario! 😉
Check this post on Commissario Montalbano books
Tips for reading in Italian
One of the important points to keep in mind while reading in Italian is to make it fun. Do not stress while reading, especially if you cannot understand every word. Read with a flow to get a sense of the paragraph/chapter.
Beware of high level grammar in Children's books
Whoever thought that children's books would be tough?! But they are. Children's books contain intermediate level language conjugations such as passato remoto and it is important to keep in mind before you pick them, thinking they are easy.
Read your favorite author in Italian
Have you ever thought of reading your favorite author in Italian?? It might be an excellent way to dream in Italian. I once felt very bold and tried reading Harry Potter in Italian. It turned out to be confusing because I was not an intermediate level student then. But if time permits now, I would love to read some of my favorite authors' translated work in Italian. Imagine the sense of fulfilment!
Keeping a diary handy is very important when reading in Italian because writing new words helps in faster retention. All you do is hand pick a few words, find their meanings and note them in your diary.
Over to you, did you find these books and tips useful??
Pin this Post
Read next