On Italophilia I'm pleased to welcome Kelly Medfort an artist who owns Sketching Rome Tours! Kelly will be sharing her journey of learning Italian and also the concept of sketching tours in Rome- an unusual way of spending time in the eternal city. Sketching Tours in Rome are a unique way of slowing down and enjoying travels in Rome. There's no prior experience required, all you have to do is simply book a tour and paint your way in the Eternal City!

So tell us Kelly! How did Italy happen?? What made you think of choosing Italy??
Even though I am an artist I never thought or dreamt of moving to Italy to paint. I was studying in the U.S. and apprenticing to a painter and his wife who ever summer traveled to Italy to paint landscapes and stay with their friends in a castle on a hill in Tuscany, just outside the town of Anghiari. 
Since I was the apprentice they offered for me to join in for a month of landscape painting, of which I had little to no experience, I always painted still lives and such in the studio. Of course I said yes, what a magical opportunity it was and what I did not know is that it would change the entire course of my life! Now, I did not speak one single word of Italian and that did not deter me, so off I went.

I stayed in a cheap hostel in Piazza Vittorio. At the end of our course and time painting together my painting teacher suggested that I apply to a small private atelier in Florence called the Florence Academy of Art. When I got back to the US, I got a phone call, it was The Florence Academy. Apparently they had an opening, but I had to be there for class to start on January 2nd.
I said I would be there, having in reality no idea how I would get there.
As a student I had no money to speak of, much less to fly, live and study in Florence, Italy. The next day I went to the study abroad office at my university and asked about any possible grants or scholarships. They told me that almost no one had applied to study abroad, so if I filled out the paperwork I could have a full year's grant to study anywhere in the world. This included my airfare, tuition, living expenses, everything.
Nothing short of a miracle!!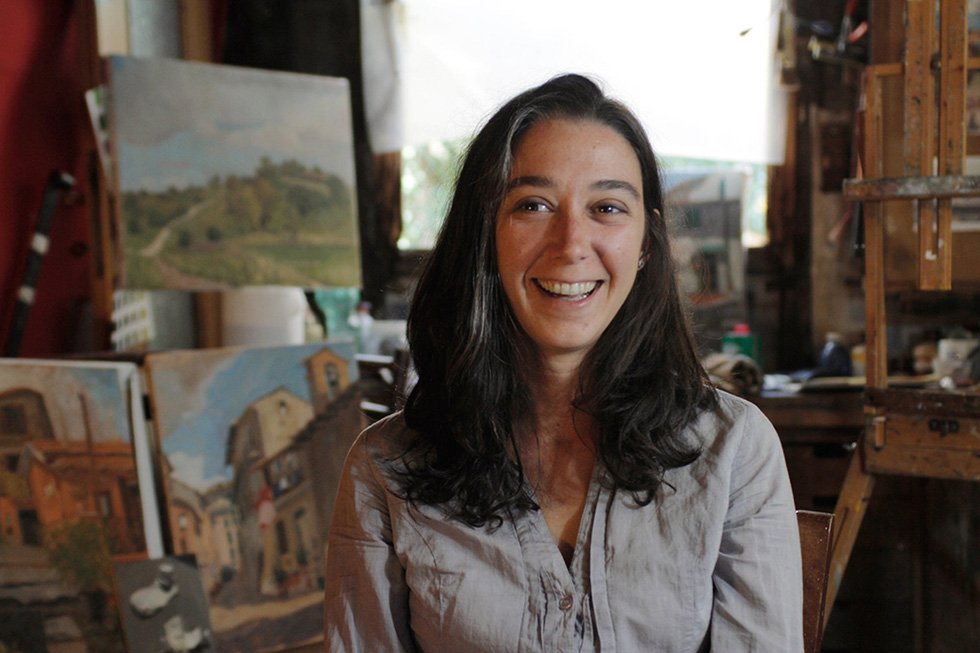 Did you know any Italian beforehand?? How was your experience learning in the first few months??
January 1st 2005 I moved to Italy and never looked back. I had started to take some Italian lessons, but still could by no means communicate with anyone about anything really, it was slightly disheartening, but I was not worried. 
After a year I still spoke very little Italian. I had to decide what to do, so I decided to stay in Italy and to paint. I wanted to see Italy, to meet real Italians, to learn more about the people, language, food, culture, everything I had missed out on during my intense year of study with people from everywhere but Italy. 
So I invented a (sort of) plan. My plan was to work as an artist's model and to spend every other free moment painting. But this time I was going to take my easel outside and paint so that I could see Italy, interact with Italians. I realized that in Italy all of life and everything that happens is outdoors in the streets, the shops, markets and piazzas. I moved to the countryside where absolutely no one spoke English and studied my conjugation book of Italian verbs like it was my new bible.
I made a complete fool of myself more times than I could possibly count. Luckily Italians are kind and compassionate, each individual that I interacted with helped me to learn a little bit more each day by gently correcting and encouraging me to keep speaking with them in Italian. When I moved back to the city of Florence I decided to take an actual Italian class and private lessons weekly.
My Italian began to improve and I could have actual conversations about menial but important things like how I would like my coffee (a highly individualized affair in Italy).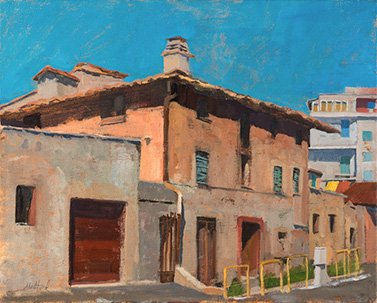 What tips would you give to readers who are learning Italian??
Over the years I have had many Italian roommates, a couple of Italian boyfriends, worked with and made mostly Italian friends. The best way I found to learn Italian is:
By doing activities which give you a whole new set of vocabulary. For instance I took swimming lessons, joined the Rome urban sketchers group and went on guided tours in Italian or took any kind of classes if at all possible in Italian.
I helped Italian friends translate documents into English so that I can learn more Italian.
I went to networking mixers with Italians. Not only is it a great way to make new Italian friends, but also the way to keep expanding your vocabulary.
Another amazing way to learn Italian is if you have a dog! Everyone else with a dog will talk to you and ask you first about your dog and then about you, that's how I made a few friends who even invited me out for pizza.
What people don't tell you, or what I never understood until I was here in Italy is that learning a language is not just learning how to string words together in the right order along with the correct verb conjugation. But in learning a language you have to learn so much more in order to know what people are talking about!!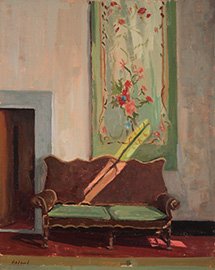 Absolutely agree and what an inspiring story, Kelly! After hearing it, all I can say is that miracles do happen, never give up and keep following your dreams!!
Follow Kelly on Instagram, Facebook and do check her Sketching Tours when in Rome!!
Further Reading: