Italy based books are very popular on my blog so much so that I end up reading them more for reviews. (no complaints there!) There are always more recommendations for books set in Italy, from memoirs to coming of age novels. Here are 4 contemporary and travel books on Italy will help you understand the culture and lifestyle of the Italians.
Books on Italy: Contemporary and Travel
1. Only in Naples:
Lessons in Food and Famiglia from My Italian Mother-in-Law

by Katherine Wilson:

This fun memoir set in Southern Italy is the author's journey of embracing a new life in Naples. Only in Naples is actually a tribute to the quirks of the city mixed with adjusting in a new family and managing family dynamics especially with a typical Neapolitan mother in law. This book will fill you with joy as it has everyday rituals, recipes and acts of kindness of the Neapolitans. There are a lot of cheeky passages that makes this book a light beach read. But it is poignant in parts and more so if you're Italian, because you will miss your nonni! Only In Naples is also published as "The Mother in Law Cure".
2. Venetian Blood by Christine Evelyn Volker:
Venetian Blood is crime fiction set in Venice from an author who adores the floating city. The book begins with cultural and architectural references that will give you a rich background of the city of Venice. It is well written with endless use of Italian language. Although you might guess the killer, the most important details are the historic references of the story rather than the murder itself. The effort and research gone into this book are praiseworthy as Venice seem more alive than ever.
The author talks about how small Venice is and how everyone knows everyone else in the city, how food is given paramount importance whether it is a bite of spezzatino or cicchetti or a glass of prosecco…..
3. The Civilization of the Renaissance in Italy by Jacob Burckhardt:
If you are looking to delve into history and read about Italy 100 years back, this is the book to pick. I took ages to finish it (seriously!!) and almost gave up in the middle but kept going for some reason. The writing isn't easy because this book was written eons ago.
The author takes the reader back in time and discusses about the Italian Renaissance in relation to Italian history, culture, art and science. He uses people and political hierarchy of those days to make it easier.
The book is historic and to some it might be boring but once you pick the book, you will want to finish through the interesting aspects of Italian art and culture. The only downside is that it is written for his fellows and you'll find Burckhardt giving a lot of generalizations.
4. I'm Not Scared by Niccolo Ammaniti:
I'm Not Scared is a coming of age theme as it talks of the loss of childhood innocence. Narrated by a 9 year old, this promising read is perfect for lovers of contemporary Italian literature. It also has lovely descriptions of Southern Italy and it's countryside. The book is set in the year 1978 and so the simple style of writing is lovely. The translator has done a great job in bringing it to the English audience. After reading the book, watch the movie by the same name.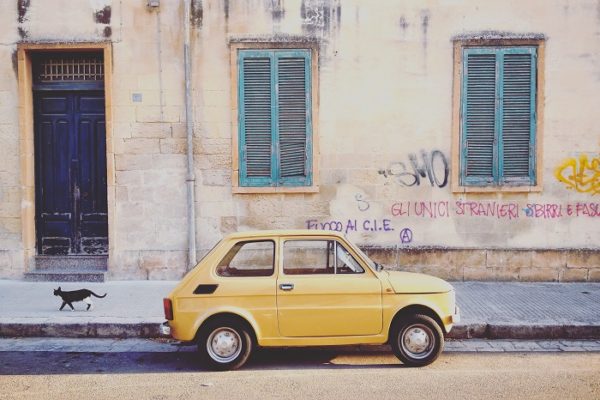 Further Reading:
You should also read Venice: Pure City by Peter Ackroyd
Pin this Post: