Trieste is an Italian city is not frequented by the regular traveler. But it should be. The mountains and the mighty Adriatic makes Trieste a very unique city and there is also that unmistakable charm since it is a port town. Trieste as a city has been known to have attracted a lot of  writers and thinkers since years. One of them was the notable Irish writer James Joyce. He along with his standards of coffee are very famous and that is why this post is important because it tells where to have coffee in Trieste- Joyce style!

James Joyce in Trieste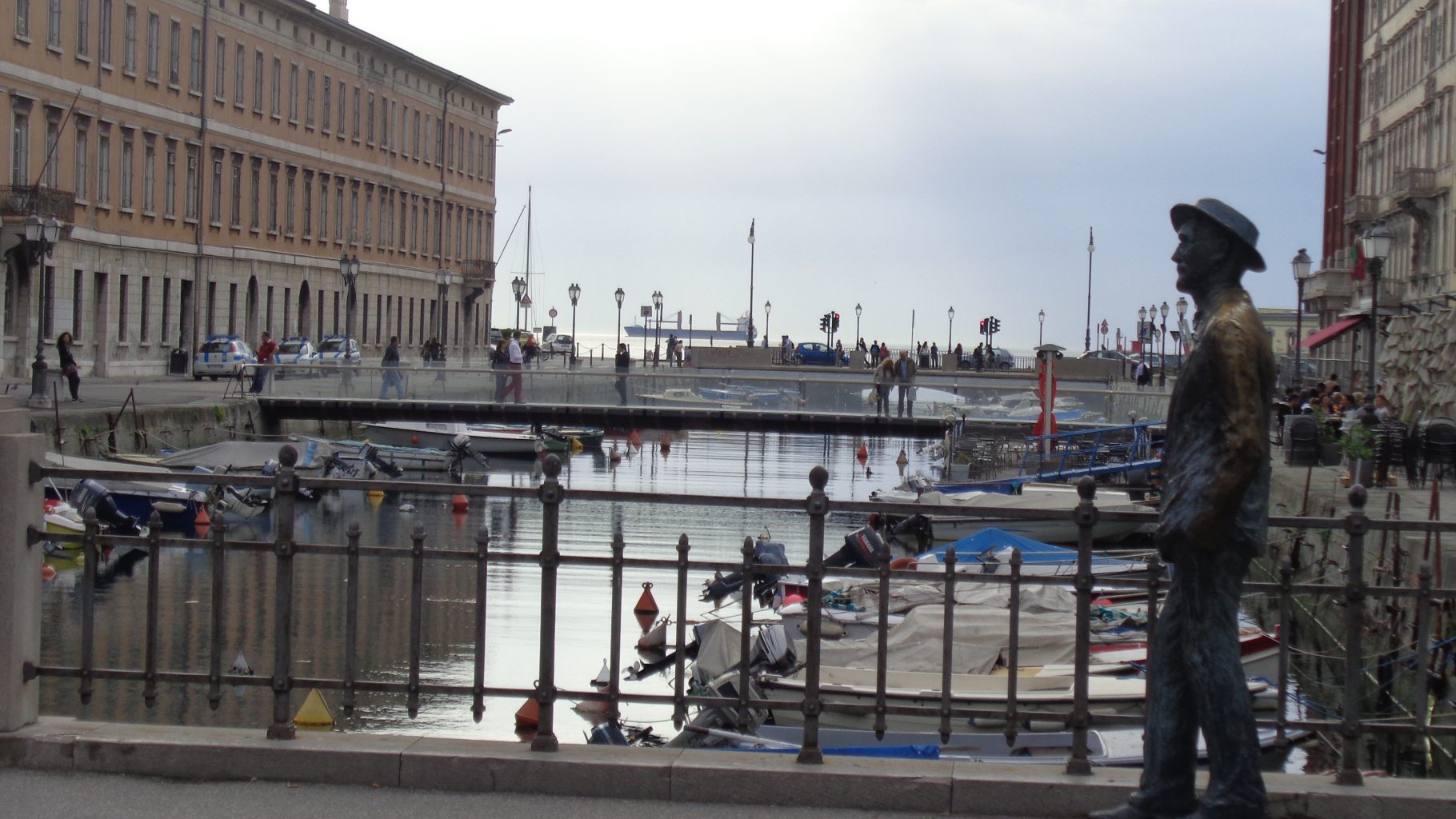 James Joyce in Trieste
So when I was in Trieste standing next to Joyce's calm and smiling statue, I decided to follow his footsteps. Joyce lived in Trieste for more than a decade from 1904 till 1915 and it was his city, a place he loved and greatly admired. Trieste stole his soul and it is evident when you walk around the city.
Several alleys, B&Bs, hotels, museums and coffee houses have dedicated themselves to Joyce and his time in the city. It is a wonderful feeling being in the centre of it. Literary Italy is fascinating…..!!
Did you know the famous coffee brand Illy is from Trieste!!
This slideshow requires JavaScript.
Joyce often went to many old fashioned coffee houses in the city. But my favorite is below!
WHERE TO HAVE COFFEE IN TRIESTE
Antico Caffè San Marco should be your spot if you are looking for anything related to coffee and James Joyce in the city. Ask the way Joyce had his coffee and you will be offered a Joyce special and told about the history. San Marco is also a huge bookstore where book events are held regularly and is definitely a MUST VISIT on your Trieste trip.
Other notable places to have coffee in Trieste are Bar Italia, Caffè degli Specchi and Caffè Pirona. Apart from these cafès, Joyce also wandered in other parts of city such as the well known Theatre Verdi and the church of San Nicolo. He, along with his writer friends Umberto Saba and Italo Svevo, were part of the city's literary drama and culture.
James Joyce in Trieste
It was not unusual for me doing a tour of the city with the ghosts of the literary past. I travel in search of literary references wherever I go and Trieste just happened to make it doubly special….!
How to Reach Trieste:
Trieste is well connected by all major cities of Italy. I took a train from Florence and
booked my tickets with Trenitalia.
Trieste is closer to Venice since it is at the far eastern corner of Italy. It makes a great base to explore Slovenia and Austria.
PIN IT 😉