Where to have coffee near Termini in Rome?? Close your eyes, walk across the station and find yourself outside Caffè Trombetta. Established in 1890, Trombetta is one of the best options to enjoy a coffee near Roma Termini.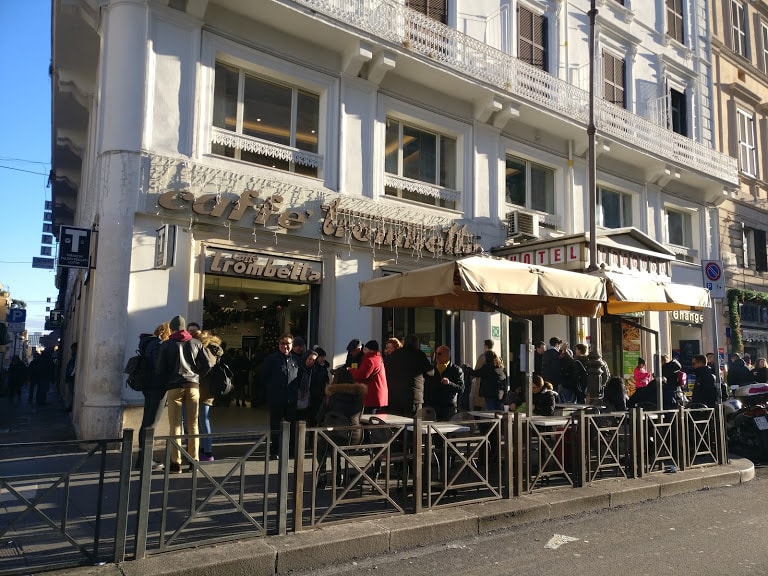 Where to have Coffee near Termini in Rome
During our honeymoon in Italy, my husband and I found Trombetta as an excellent Bar to enjoy coffee near Termini. It was lovely to slow down despite being in the busiest areas of Rome. As far as I've noticed, Italians begin their day quite early, so by 8 a.m. the place was packed with locals and we were usually the only tourists that time! My husband and I took the same brioche and macchiato every time and loved the whole drama of being in an Italian Bar!
There are so many tiny pleasures to describe.… It brings wonderful memories!
The clink of glasses, the sound of the espresso machines, the animated discussions of the elderly…………the countless grazie and prego, the social niceties of buongiorno and scusate, the hard working barista and the oh so many delicious line of cornetti!!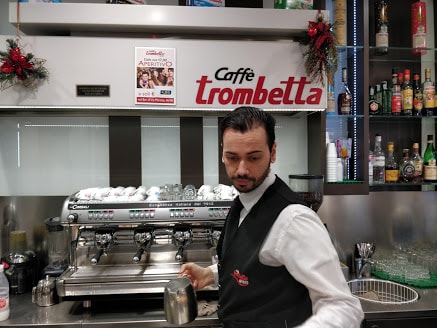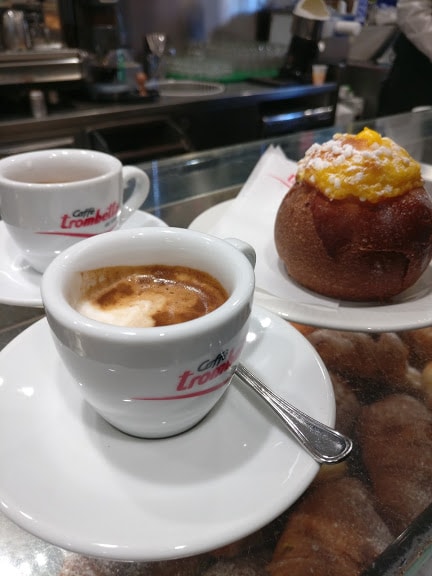 Trombetta was a true truly Italian experience both in it's ambience and the the delicious coffee that it offered. Don't miss the bow tie servers! All in all ……an excellent place to have coffee near Termini in Rome.
Going back in time
Incidentally, while writing this post I also recall that Trombetta was the first Italian Bar I ever set foot in 7 years ago!! I vividly remember because I bought a banana from the vendor outside Trombetta and went inside to have my first Italian coffee ever! I never realized it until now. Who would have thought that 7 years later I would be there again but this time with my husband 🙂
Buy Trombetta Coffee from home
Due to the outbreak of COVID-19, the world is a different place currently. All of us Italophiles wh can't travel to Rome but dream of it every day can bookmark this post for future. And…..You can buy Trombetta coffee sitting at home. You don't have to wait for a trip to Italy.
Trombetta produces excellent ground coffee, capsules and other coffee supplies! Their Trombetta Classico Deccaffeinato capsules are on Amazon. Also worth trying is the Trombetta Giusto Forte which is supposed to be another fabulous option for your moka pot needs!!
Further Reading on Italophilia:
Pin it:
Book a tour in Rome: