My love affair with the Moka Pot began years back when amid a row of ladles and utensils, a gleaming red Bialetti called out to me! It was terribly tiny and served coffee for just one! But to me it was the perfect gift under €10 and I was so chuffed because it was a source of daily happiness. So I'll tell you how to use the Italian coffee maker a.k.a the moka pot, but I must say that it is not rocket science! Making coffee in an Italian Moka Pot is super easy and also very delicious. It is my morning routine now as much as it is for the millions of Italians out there. So here's a step by step guide on making espresso in a Moka Pot below!
The Bialetti Moka Pot
The Moka Pot was invented in the early 1930s by Alfonso Bialetti who changed the way the world drinks coffee. He a pioneer and a visionary who established, designed and started the timeless trend of having Moka Pots at home.
Although the Moka Pot has been emulated by many companies, Bialetti is eternal and a personal favorite!
The Bialetti Moka Pot is an expression of Italy, the Italians and their household. It brings everyone together. Whether or not you've visited Italy, you might have seen the famed espresso pot.
As my friend Allie says, "It has become quite fashionable to own these off late." And it's true!
#ButFirstCoffee
Here's a Step by Step guide and instructions on how to use the eternal Moka Pot:
How to Make Coffee Using a Moka Pot
1. Fill the base with water:
Once you've opened your gleaming and gorgeous Moka Pot, unscrew the half and fill the lower base with water. Don't fill it to the brim but instead only till where the screw is (pic below) and fill the water only until that level. 
2. Put coffee in the funnel:
Add the small funnel to the top of the lower brewer and start adding coffee. Make sure you pack enough till the top. I get the already roasted coffee by Lavazza but if you have a grinder at home, even better to grind your fresh coffee.
3. Screw the top chamber
Once the coffee is on top of the lower brewer, make sure you screw the lower chamber  with the top half and pack it tightly.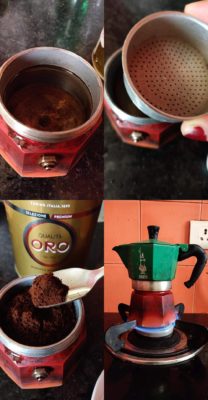 4. Put it on the stove and wait
Put the moka pot on the stove and wait for a few minutes till you hear a gurgling sound!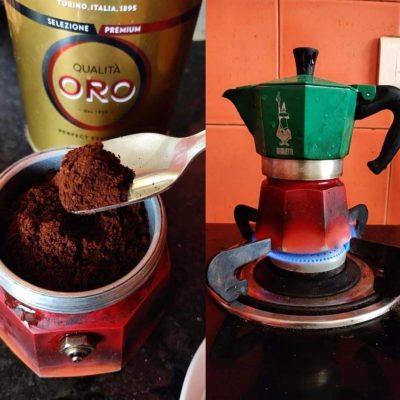 5. Remove from the stove
As soon you hear the wonderful gurgling and see a brown liquid emerge on the top of the pot, remove the moka pot from the stove and switch off the gas. I usually do it once the coffee comes to almost half its way.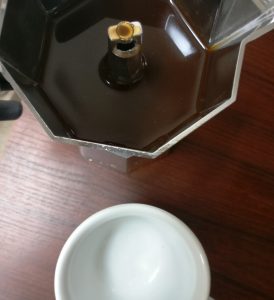 6. Pour into the cup and taddaaaaaa! Enjoy your coffee!!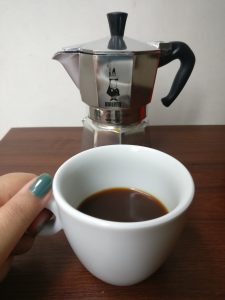 FAQs about brewing coffee in a Moka Pot:
Which coffee brands should I use??
I prefer Lavazza and Illy, not because they are Italian brands but also because my palate has become used to them. It makes more sense buying a pack of 4 or 6! I have also discovered excellent coffee brands from Southern India – worth buying from your local stores(for instance Flying Squirrel and Blue Tokai). Just make sure you use coffee that is roasted for espresso purpose and for the benefit of people in India, Nescafe or Bru sachets won't work 😉
Where can I buy the coffee??
All metropolitan cities have coffee brands available. In most of the larger supermarkets in Delhi NCR, a single Lavazza pack costs anywhere between INR 375-600 ($5 and above). On Amazon, get any Italian coffee- Illy, Lavazza and Kimbo are my suggestions. 
How and when should I wash my Moka Pot??
Once your Moka Pot has cooled off, rinse and wash it with warm water. Do not use soap to wash the pot!!
Should I initially add warm water to the Moka Pot??
No, I don't advise you to because you are going to heat the water anyway when you put it over the stove.
Which Moka Pot should I buy??
I recommend buying the Bialetti brand. There are several Moka Pots available for buying on Amazon. It depends on your usage and drinking habit but if you are two people, go for the Moka Pot that serves 3 people so that you both can have a good amount of coffee. All Moka Pots have this information written on their labels. Check this one here.
Can I use it on Induction??
Yes, you definitely can but before you purchase read the product information. Most of the ones I see are of aluminum and not suitable for Induction. But this is.
Can I add milk to this espresso??
Of course! That's what I do too. I usually add two foamy spoons of milk after my espresso is made and it becomes my own home made macchiato. Do what you love!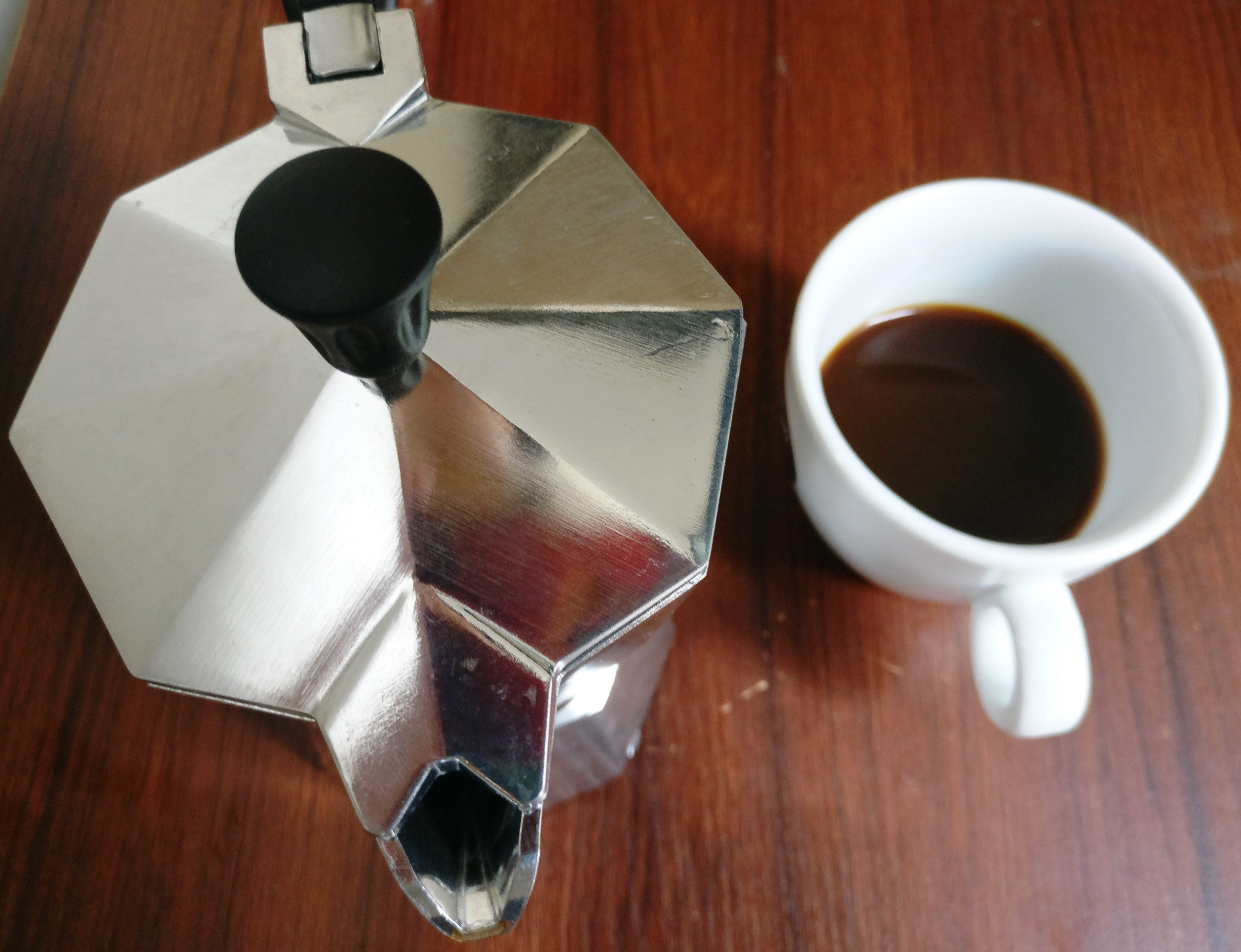 The next item on my list is a Neapolitan-style stovetop coffee pot that I hope to buy from Naples itself!
PPS: I share my Espresso mornings daily on Instagram Stories, do follow!
PIN THIS:
Further Reading: