Castellammare del Golfo is a hidden gem on the Sicilian coast. It is authentic, charming and seemingly undiscovered. With its crystal blue sea, bountiful landscape and unbelievable food and wine, Castellammare has it all! There are several things to do and see in Castellammare del Golfo especially if you love copious amounts of sunshine and seafood. Stefanie from Palazzo del Golfo tells us more about this little Sicilian paradise!!
Things to do in Castellammare del Golfo
Castellammare del Golfo: A Hidden Gem of Sicily:
Castellammare del Golfo is a hidden gem of Sicily and the perfect seaside village. Located in the Trapani Province, it is only an hour from the capital city of Palermo. It is famous for local seafood delicacies and Sicilian specialties, all while bring surrounded by the Riserva Naturale dello Zingaro! The Castellammaresi, as the locals are called, work and live in Castellammare del Golfo. They are known to proudly maintain local Sicilian culture and traditions.
History of Castellammare del Golfo:
Castellammare del Golfo is both a municipality and a town. Loosely translated as "Sea Fortress on the Gulf", the town is named for the Arab-Norman castle that dominates the port. Like most of Sicily, Castellammare del Golfo enjoys a storied history starting from 6th century BC.
It was once the ancient "Emporium Segestanorum" (Emporium of Segesta) or a "town of maritime trade." Its strategic location between Trapani and Palermo made it a prime location for many invaders and foreign inhabitants. The results created a rich local character and eclectic cuisine rich in seafood of Norman, Spanish and Arabic influences.
Castellammare town and its famous port are revered as one of Sicily's most beautiful peninsulas. In other words, Castellammare del Golfo shines with cultural festivals and sun worshipers in summer. The town is extremely walkable with lots of incredible food options. It is truly a foodie's paradise for the 'epicurious.'
There is an unassuming vibe here despite being on the largest island in the Mediterranean!!
Things to do in Castellammare del Golfo:
The principal activities in Castellammare del Golfo revolve around the sea.
1. Explore the Marina:
The promenade that wraps its way around the Arab-Norman Castello is the marina. There are harborside seafood restaurants serving seafood and traditional Sicilian fare here.
From the port, one can arrange many types of activities with tour companies specializing in group sea excursions & boat rentals. There are additional options of scuba diving, bike tours and day trips as well.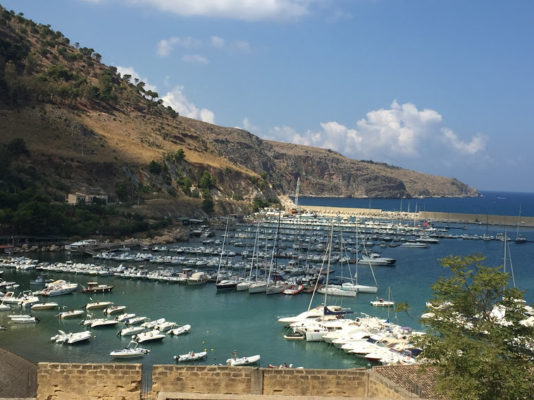 2. Take an Evening "passeggiata":
An excellent way to enjoy this seaside village is to take a passeggiata from Corso Mattarella towards Quattro Canti. After that one can slowly make way onto Corso Garibaldi where there are many pubs, gelaterias and artisan stores. This area is also gorgeous with the Piazza Petrolo that has a great view of the sea.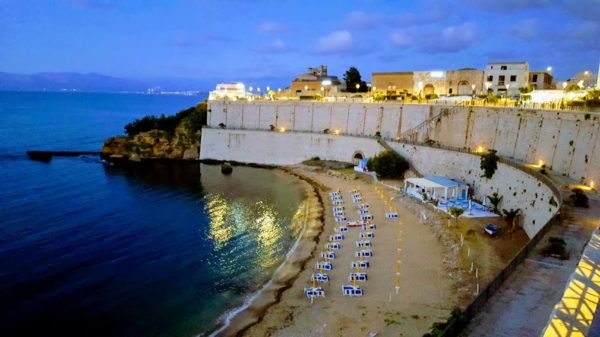 3. Visit the Arab-Norman Castle:
From 827 AD, the Arabs stayed in Castellammare del Golfo and made the castle fortress. It was later enlarged by the Normans and now houses in its halls the "Memory of the Mediterranean" museum complex. The main aim of this museum is to enhance the heritage of the village.
4. Peek inside Chiesa Maria Santissima del Soccorso & Chiesa della Madonna delle Grazie:
Another very interesting thing to do in Castellammare del Golfo is to take a peek inside the Chiesa Maria Santissima del Soccorso and Chiesa della Madonna delle Grazie. The former happens to be the main place of catholic worship in the town. The church honors Madonna del Soccorso– Castellammare del Golfo's patron saint. Every year in August, a procession with the statue of Madonna del Soccorso is unveiled to the town.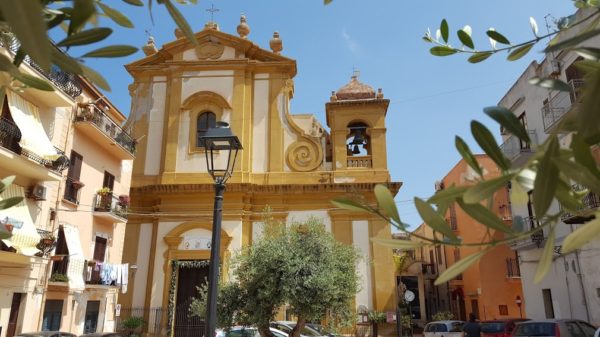 5. Head to Palazzo Crociferi & Arena delle Rose:
If you're in Castellammare don't miss exploring Palazzo Crociferi and Arena delle Rose. Palazzo Crociferi was founded in 1659 as a convent of Crociferi, and houses the Town Hall. The church serves as a council hall and auditorium. Furthermore, it also serves as a place for cultural events under the stars. To know more about ancestry in Castellammare del Golfo, the Town Hall is the best stop!
6. Stop at Villa Comunale Regina Margherita:
Castellammare is also home to the Villa Comunale Regina Margherita landscape gardens. They are only a stone's throw away from Palazzo del Golfo. The historic center's underlying panorama and Castellammare del Golfo's port is visible from these gardens. Additionally there is a long staircase that crosses the different terraces of the gardens. It is gorgeous especially when an intense light illuminates the park during the day which entices locals and visitors alike. There are date-palms and many exotic plants such as the Ficus beniamina trees.
7. Take the Scalinata Porta Marina:
The steps of Castellammare del Golfo have always been unique and the Arabs rightly referred to the village as 'Al Madarig' (the steps). So a necessary thing to do is to take the Porta Marina steps that connect the Piazza Castello to the port!
8. Relax at Parco Villa Olivia:
Visiting the Parco Villa Olivia. It is a beautiful urban park in the heart of the town.
9. Be stunned by Belvedere di Castellammare:
What can be better than taking a grand view of this port town from a vantage point! Located on the way from Castellammare del Golfo to Scopello, Belvedere di Castellammare is the apt place to take in the harbor's jaw dropping views.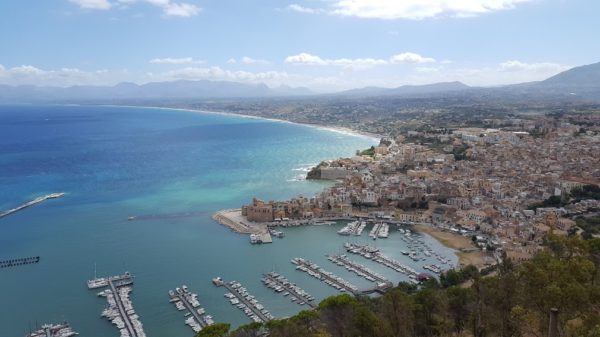 10. Spend time in Riserva dello Zingaro:
It would be pointless to visit Castellammare and not see the Zingaro coast. After all it is one of the very few stretches of the Sicilian coast not contaminated by the presence of a coastal road! One of the most enjoyable activities is spending time in this Reserve which stretches along 7 km of coast and almost 1,700 hectares of unspoiled nature.
Often referred to as "paradise with the sea view," the Reserve offers visitors a spectacle made of imposing mountains, deep recesses, broad valleys on the sea.
Riserva dello Zingaro was the first SicilianNatural Park Reserve setup in 1981. It has a network of hiking paths of various lengths and difficulty.

palazzo del golfo
11. Take a day trip to Spiaggia dei Faraglioni:
Spiaggia dei Faraglioni in Scopello is arguably one of the most famous seaside destinations in the area. Frequently a location used in commercials and films, Spiaggia dei Faraglioni is a great day trip from Castellammare. It offers a beautiful bay with crystal clear water and wealth of sea life.
Where to Eat in Castellammare del Golfo:
This seaside village is filled with an abundance of local mountain siciliana meat, cheeses and black truffles. Due to its close relationship with the sea, the main food here is fish. The town enjoys a vibrant restaurant scene fueled by the riches of the sea. There are seafood delicacies highlighting fresh local ingredients.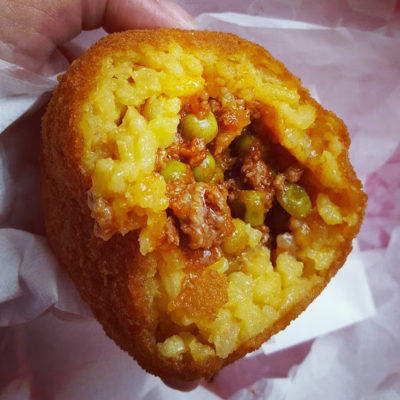 Some of the places to eat in the town:
Vernaci Gelateria
H 80 FAME
I Sapori
L'Antico Granaio
La Tonnara
Bistro Burger at Lido Pirata
Day Trips from Castellammare del Golfo:
Erice – (Carry a sweatshirt!)
Segesta
Alcamo
San Vito Lo Capo
Scopello
Trapani
Favignana
Scopello is a picturesque village known for rare rock formations – Faraglioni and the XIII century 'La Tonnara'.

palazzo del golfo
Where to Stay in Castellammare del Golfo:
Look no further than being in the centre of town at Palazzo del Golfo. A gorgeous property in the heart of the seaside village, Palazzo del Golfo is owned by Domenico and Stefanie. It offers panoramic sea views, a birds eye view of the town and plans the best activities for their guests keeping in mind the soul of the area! Follow them on Facebook.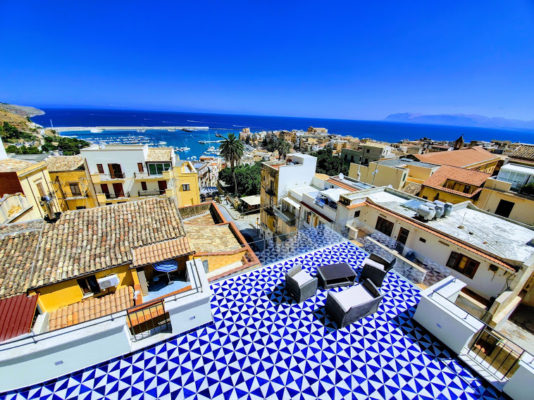 Pin This:
Further Reading: