One of the most frequently asked questions I get from people traveling to Italy is how to apply for a visa from India! I'll be straight to the point. One needs a "Schengen Visa" to travel to Italy. There are 26 countries that fall under the Schengen Visa zone/category. The Visa process is simplified by a third party called VFS Global that bridges the gap between the applicant and the Embassy. VFS submits Visa applications on behalf of applicants and is a great intermediary for all queries!
Here's how you can apply for a Visa to Italy from India:
If one carefully reads everything and carries the necessary documents, hiring any external agent to apply for a Visa is out of question. I've seen a lot of people being hassled for no reason but honestly relax. I've been doing it for more than 6 years myself and I think if you read this post carefully, you might understand that applying a visa from India to Italy is not as difficult as it sounds.
Step 1:
Log in to the VFS Global Website and select the VFS office closest to you. They are in three metro cities- Delhi, Mumbai and Kolkata so select the one with the closest jurisdiction.
For instance if you are from Shimla, your nearest centre will be to apply for a Visa from Delhi. If you are from Hyderabad, your centre will be Mumbai. Similarly for Eastern India and Nepal, your centre will be Kolkata.
"Consulate General of Italy in Mumbai will accept applications from residents of the States of Andhra Pradesh, Chhattisgarh, Madhya Pradesh, Goa, Gujarat, Karnataka, Kerala, Maharashtra and Tamil Nadu; the Union Territories of Daman, Diu, Dadra and Nagar Haveli, Lakshadweep and Pondicherry."
Step 2
Understand which visa you need- tourist, work, permanent etc. There are 3 types of Visa which you can read about here.
For a short stay in any of the Schengen countries apply for a visa in the country where you are spending the maximum days.
For instance, if you are spending 8 days in Italy, 3 in France and 7 in Portugal, you should be applying for a visa with the Italian Embassy and not the others. However, if you are spending 7 days in France and 5 days in Italy, you should be applying to the French Embassy and not with the Italian. If the number of days are equal for both countries, apply for a Visa in the country you are landing in.
Countries under Schengen Zone:
Step 3
Gather the following documents for your application. 
VISA CHECKLIST:
Application form signed by the person traveling (which is you!)
Confirmed ticket or reservation of return.
Income proof that shows that you have the means to travel to a foreign country. A No Objection letter from your place of work works well.
6 months stamped Statement of Accounts from your bank (Have enough balance to show that you can sustain yourself during your travel.)
Form 16 from the past 3 years.
Overseas Medical Insurance covering up to EUR 30,000. I've been using Bajaj Alliance since the past 5-6 years.
Extra copies of Passport.
Proof of stay in Italy.
If your stay is sponsored, a Letter of Invitation from your Sponsor in Italy.
A Schengen approved passport sized photograph. For more details refer to this link.
Step 4
Once all of the above is done, schedule an appointment at the required VFS Office as per availability. Once your appointment timing is confirmed, visit the VFS Office and submit your documents to the required country. It usually takes 10-15 days to receive your Italian Visa.
VFS issues you a receipt number that can help tracking your application. It's simple and quick 🙂
Important Points to Remember:
Your passport should have a validity of at least 3 months more than the visa. Make sure that it has 2 blank pages as well.
Always take photocopies of your documents beforehand as the VFS office charges more for a photocopy than anywhere else.
Current Visa fee is at INR 4690 (plus GST). This is a non refundable fee which means if the Embassy rejects your Visa, your fee will not be returned.
Choose your appointment time wisely. The VFS offices are always busy and full and it is wise to take a morning appointment (I always do that!)
An SMS facility is available to track your application but it costs an additional amount. I never use this because it is very easy to track your application online. You can call or email as well!
Carry cash to the VFS office as credit/debit cards for payment are usually frowned upon. The ATM is a stone's throw away but usually has long queues.
You have to be physically present at the VFS Office to be able to successfully submit your Visa application. No one else can do it in your place.
Ready to visit Italy?? Share your queries in the comments below! Don't forget to share this post with all your friends visiting Italy from India.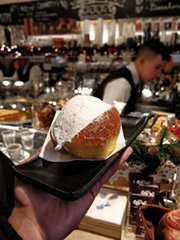 Buon Viaggio! Happy Travels to Italy! 🙂
Book Your Holiday in Italy
Further Reading: