Naples has very unique desserts and pastries. While walking around Piazza Garibaldi, I happened to find myself in front of dessert heaven called "Attanasio". This place was also a part of my Naples bucket list but I had no idea it was just behind the B&B where I stayed. I was overjoyed to see it!
Sfogliatelle calde Attanasio
But there was a queue to get in! Yes you read that right. A damn queue. Attanasio was allowing 2 people to walk in at the same time, one placing the order, the other carefully choosing what they wanted and then standing behind in line. 
There were about 8-10 people ahead of me so I guessed a 10 minute wait at least. I mentally made up my mind to get a piping hot airy crunchy pastry called Sfogliatella along with a Babà al rum – a spongy Neapolitan cake soaked in a delicious syrup (probably my favorite).
When I walked in, I was greeted by the man in the photo below, I told him what I wanted, all in Italian. Then I paid & was asked to move to the counter to collect my calda Sfogliatella & Babà.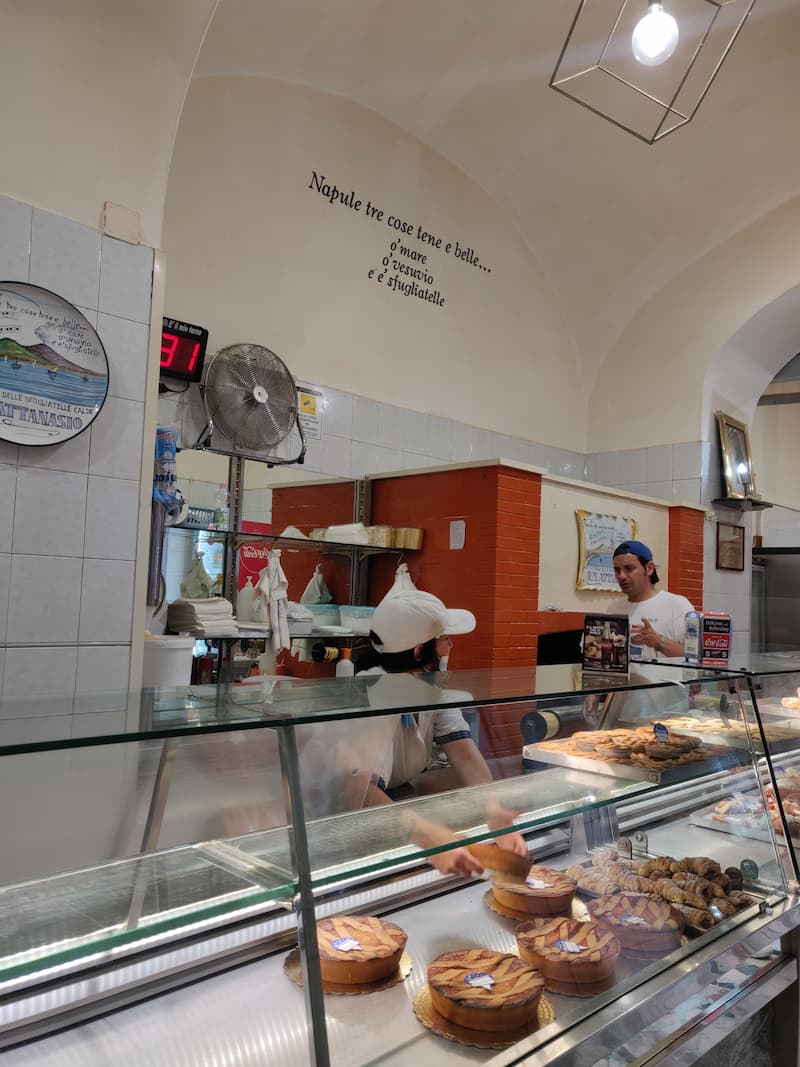 The crispy Sfogliatella came right from the oven and got over in no time (sorry no photo of the hot/calda sfogliatella!). It had the sweetest fragrance ever and was probably the highlight of my trip to Naples.
The baba with delicious cream and berries was over in 3 seconds much later and I happily skipped dinner. 
Highly Recommended
Visit the old school Attanasio, a Neapolitan take away point, full of locals and tourists alike. It really is worth the effort and wait. The sfogliatelle are barely priced at EUR 1,5!! Though you might feel that the staff isn't as friendly, especially if you're a foreigner, don't let that deter you. This place should really be a part of your Naples trip. Check out this YouTube video by RomeWise on Naples.
 Sfogliatelle calde Attanasio:
Vico Ferrovia, 1-2-3-4, 80142 Napoli
Further Reading
Pin the post