I am completely blown away by the eastern Italian region of Le Marche!! Do you know about the seaside town of Numana in Le Marche?? It is really a jewel of the Adriatic! Numana is also a great base to explore the coastal side of Le Marche- an underrated Italian region. This town is part of the Riviera del Conero.
Numana, Le Marche: A Jewel of the Adriatic
After years of Italian sojourns, I finally made it to Le Marche thanks to the lovely ladies from DiscoverMarche. Numana in Le Marche is one of the best places that shows a gorgeous breathtaking view of the Adriatic and undoubtedly a jewel of the Adriatic. It is also a popular summer destination. Numana is divided into Numana Alta (upper) and Numana Bassa (lower).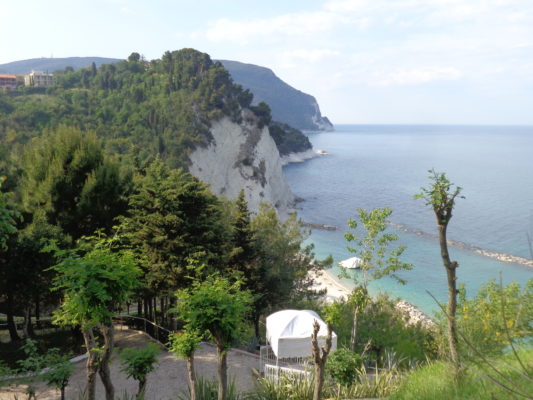 There are various vantage points from where you can get the most spectacular views of the Adriatic! Numana is all about that vibrant Italian vibe you're looking for!!
There are many bars and boutiques in Numana alta and places to rent which would say "affittare camere o affittare una stanza" (rooms to rent) or casa in vedita. I can't imagine how Summer must be here! I was there in May 2017 and there were hardly any people around even until 7 p.m.
Numana's history goes back to the Romans!! It is full of stunning views and colorful alleys. Don't forget to enjoy a gelato at Gelateria Morelli when you go- Buonissimo!!
Important Info:
There are no trains to this part of Italy and the bus connectivity is erratic so hiring a car is the best way to travel.
Best time to visit is June- Sept when the beaches are in full swing and it is more lively.
For further information Numana Toursim is very useful.
Lonely Planet named Italy the 2nd favorite region to explore in 2020!!
Further Reading:
Staying in Palazzo Donati, Le Marche
The beach is a good outline sketch of Italy. Get changed, look around, and don't worry if people stare at you.

BEPPE SEVERGNINI