Visiting Italy several times since past so many years has given me an adrenaline rush. It pushes me to keep seeking, learning, traveling and creating. Yes I am going to Italy again! And this time I am traveling to Mantova for the Festivaletteratura! I will be a Guest and International Blogger/Journalist for the Mantova Literature Festival/Festivaletteratura.
The International Literature Festival takes place annually in Mantova and this year (2016) it is doubly special as it is celebrating 20 years of literary success. I am stoked to be part of the 20th edition because I know this journey will be like no other!
For everyone's benefit the town of Mantova is in the region of Lombardy, about 2 hours from Milan. It is the Italian Capital of Culture for 2016 and needless to say another UNESCO world heritage site.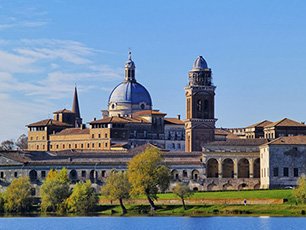 There will be a lot of Literature talk this entire month as several big names visit the Festivaletteratura. I can hardly contain my emotions because it's two of the things I love a lot – BOOKS & ITALY. Nothing like both passions coming together, right?? So, BEHOLD!
I will be soon amongst a crowd of notable authors such as Alain de Botton, Roberto Calasso, Antony Beevor, Alessandro Baricco, David Mitchell, Sarah Waters, Julian Barnes and the list goes on. There is still a lot to be done at my end-packing, to do lists, planning etc. I also just finalized my plans on where I will be traveling to after Italy. Any wild guesses?? 🙂
Meanwhile, follow along here as well as my Instagram and Twitter. I promise to make it entertaining for all of you out there- the Literature as well as the Non Literature lovers 🙂
"I am all the more convinced that we, as Italians, know nothing about certain aspects of being Italian.. Now I am in Mantua on a July night, where some Mantuans have come up with the wonderful idea of a literary festival which, year after year, takes place as summer draws to an end." -Andrea Camilleri
Until next time. Ci sentiamo!
Related Reading:
10 Photos to Inspire a Visit to Mantua