If you have been to Rome in other seasons apart from winter, it would mean long queues, pushing and shoving and extremely high airfares. But winter in Rome is a whole other experience! Not only is it more relaxed with fewer crowds but it also seems to be prettier and pleasant. Here are 5 things to do in Rome during winter which I highly recommend:
Winter in Rome: 5 Things to do
1. Spend an Evening at the Pincio:
If you're in Rome during winter, I highly recommend visiting the Pincio Terrace to enjoy exceptional views!! Imagine time of the sunset, St. Peter's Basilica right in front of you, negligible crowds and light music in the background….. There can be nothing more romantic than that, right?? This is the exact atmosphere at Pincio, which is a 10 minutes climb from Spanish Steps and 5 minutes from Piazza del Popolo. The best part of visiting Pincio is that you can view all the layers of the gorgeous city of Rome. Spend an evening on the terrace at Pincio and thank me later!
Fun Fact: Pincio gets it's name from the Pincii family that occupied the area in 4th century A.D. 
2. Take the Romantic Poets Timeless Inspiration with Context Travel:
One of the most unique ways to celebrate winter in Rome is using tour guides and tours that are otherwise fully booked in summer. I highly recommend using Context Travel to understand a deeper layer of the city. Context Travel graciously offered their "Romantic Poets Timeless Inspiration" tour to our Winter in Rome blog gang. 
We took a long walk at the Non Catholic Cemetery at the graves of writers Keats, Shelley and Henry James' heroine Daisy Miller. Writers Keats and Shelley spent a lot of time in the eternal city so we also subsequently visited their Home at the Spanish Steps. Context planned for all of us to have a glass of champagne on the private terrace of Keats and Shelley. This made the evening even more magical! 
The Romantic Poets Timeless Inspiration tour was an excellent insight into literary Rome. As you know, Literature and Italy are two of my best friends so it was fun knowing about the two aspects together. 
Fun Fact: Our guide Hillary informed that Mick Jagger read Shelley's poem "Adonais" in the memory of guitarist Brian Jones in 2014!
3. Book a tour with Foodies in Rome:
Another great way to see Rome in winter is to take a cooking class with Dominique from Foodies in Rome. Originally from Canada, Dominique established Foodies in Rome as a way to show tourists the local and delicious side of the city. Dominique is warm and friendly Roman (almost!) who is super passionate about Italian food. Her food tours are customized and curated as per clients needs. Make sure you take a pizza making class with her in the legendary Forno in Campo de' Fiori.
Fun Fact: Our group learnt how to make the best pizza al taglio with gurus Fabrizio Roscioli and Dino Bartocci!!
4. Hop on a Vespa with Scooteroma:
Another interesting thing to do in Rome during winter is to unlock your inner Audrey Hepburn!! Book a vespa tour with Scooteroma and zip past the Colosseum like there's no tomorrow!! Scooteroma is a Roman company owned by Annie and Giovanni and their super cool and funky team. Together, on a Vespa, they show the lesser known side of Rome to their guests.
My tour guide was a Roman called Michelle who was super fun and passionate. He knew Rome like the back of his hand and we ended up chatting about Italy, cinema and everything in between. I applaud him for his patience and spirit in being patient with my Italian. Grazie mille, Michelle!
Fun Fact: Scooteroma showed our blog gang the historic Appian Way that starts from Rome and goes all the way until Brindisi.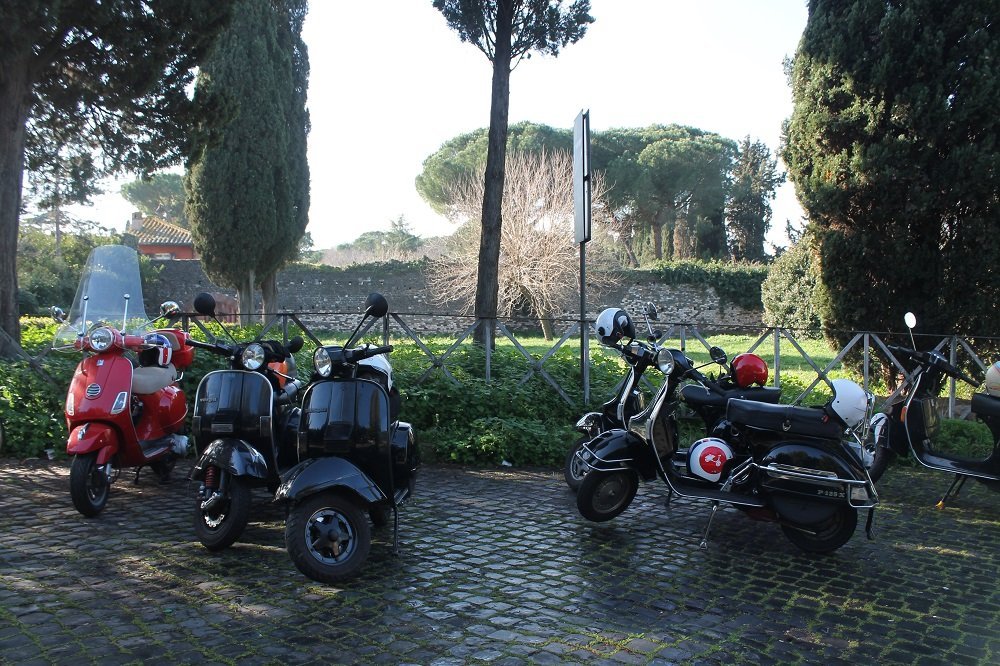 Vespa Tour with Scooteroma
5. Go for a Wine Tasting Session with Antiqua Tours:
Another unique thing to do in Rome during the winter is take a wine tasting session with Sarah May Grunwald from Antiqua Tours & Taste Georgia. Sarah is a passionate wine sommelier and the face of Antiqua who has deep knowledge about wines!
She taught about the wine making region of Lazio (where Rome is) and it's underrated wines. Our winter in Rome group also learnt how Venetians spread the wines to the Black Sea along with the history of the Etruscans. 
Fun Fact: Do you know all 20 Italian regions produce wine! 
Hope you enjoyed these unique things to do for your winter in Rome trip. Big thanks to Annie from Scooteroma and Linda & Steve from The Beehive for being excellent hosts! 
Don't miss having gelato from Gelateria Fiocco di Neve near the Pantheon!
Pin This Post:
Further Reading: