If you ask me what is the most important part of travel in Italy for me, I would first and foremost mention its the people. I have been fortunate to have met and befriended many lovely souls people over the past few years that strengthen my belief when I say this. There have been so many people who have supported me for my love for all things Italian and I am incredibly grateful!
Vigneti Santa Liberata
In Le Marche, I met Giorgio Savini with his niece Martina Savini- two lovely souls who went an extra mile to show the best of their region. The Savinis run the Vigneti Santa Liberata near Fermo and make their wines with great passion and care.
Filled with great vigor and passion, it was a treat to listen to their story and walk in their vineyard on a clear May day. Wine making has been (not surprisingly) in their family since 1934 and they aim to make wine using high quality organic farming. Their passion and love for Le Marche was heartwarming and I could really understand they had poured their heart into the business! Martina, with whom I could instantly connected, was a joy to speak to!
We had a long walk in their vineyards followed by a wine tasting where I tried their Rosso Piceno DOC Le Rene, Rosso Piceno DOC Vigna Cacià and Marche Rosso IGT Dàidalos. My favorite was the DOC Vigna Cacia, it absolutely was to my taste!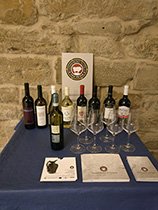 If you are looking to taste some wines of Le Marche, plan a visit to their vineyard near Fermo. They organize wine tastings and tours and are the best way to see something offbeat in and around the area. Even from Ancona it is well worth a day's trip. Follow them on Instagram and Facebook. Email: info@vinisantaliberata.it
Related Reading: Wine Tasting in Tuscany
PIN IT!!
https://in.pinterest.com/pin/410672059766272807/