Did you read the title again?? I bet you did. We are talking of Naples and Elena Ferrante with Feast on History. A travel company that offers online and offline immersive experiences on Italy, Feast on History is founded by Christian Galliani and Danielle Oteri. The company also offers Elena Ferrante tours in the heart of Naples!! Currently, Feast on History offers monthly wine and history classes for the Italophile in you. Honestly I can't wait for life to get normal and for tours to return. For now, let's find out more about the company and the experiences they offer.
Naples and Elena Ferrante with Feast on History
1) Ciao entrambi. Tell us a little about yourselves, where you're from in Italy and where you've lived?
Ciao Ishita! Thanks for having us on Italophilia!
We're both Italian-American New Yorkers. Christian is a first generation American with his family in Piacenza, a small city in Emilia Romagna. I'm Danielle and my roots are in Italy's South with three grandparents from Campania, and one grandfather from Calabria. Our home in Italy is in a part of the Campania region called Cilento. It's just a little bit south of the Amalfi Coast so the views are equally spectacular except the area doesn't have all the tour busses and cruise ships.
The two most famous things in Cilento are the temples at Paestum and buffalo mozzarella. It's also the area where the Mediterranean Diet was first studied and there's so much organic food and wine.
My Italian family has a country inn with an amazing restaurant and with them we host our food and wine tours here. It means a lot to me to have returned to the town my grandmother loved so much and never wanted to leave even though economic reasons forced her to.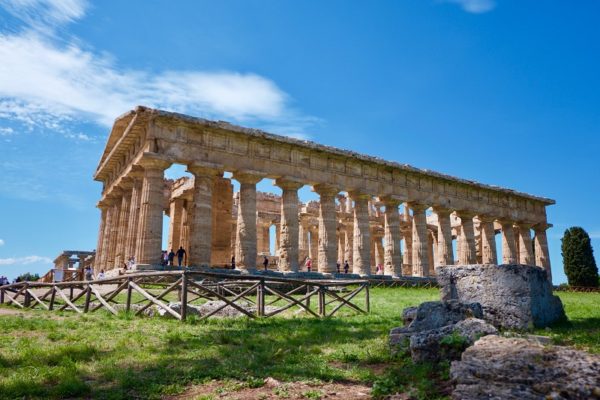 2) How and when did the idea of Feast On History culminate?
Feast On History came together as a sort of culmination of all our prior experience.
I'm an art historian and had worked at the Met Cloisters for 15 years. Christian is a sommelier and had worked for Italian restaurants including Del Posto and Eataly's Osteria Della Pace. We also have a food tour company dedicated to Little Italy in the Bronx called Arthur Avenue Food Tours. When my Italian cousins proposed that we start bringing groups to Italy, it was like, yes, of course!
It was obvious in some ways, but almost too amazing to even dream about. When they got us excited about the idea Christian spurted out, "people can literally….feast on history!"

3) You take Elena Ferrante tours in Naples? What's so special about the tours?
Initially the Elena Ferrante tours were my Trojan Horse to get people to Naples. I did my first year of graduate school in Florence which was extraordinary, but it wasn't until I went to Naples where I truly found my home in Italy. So much of my own life made sense to me from how I can't help but speak with my hands, to my unruly hair which I learned to stop straightening in Naples.
In short, I fell in love with Naples and made my professional area of expertise the Renaissance in the city. Fast forward to 2016 when the world caught Ferrante Fever and I felt I had a deeper, richer understanding of the novels because I knew Naples so well and reveled in details that those unfamiliar with the city wouldn't even notice.
The popularity of the books was an opportunity to finally entice people away from Florence, Venice, and Rome and get them past a lot of outdated and frankly lazy stereotypes about Naples. And my fiendish plan worked! On each one of the Ferrante Fever tours I led, every guest was absolutely in love with Naples by the second day, even if they were skeptical on arrival. 

4) How lovely, you know Naples so well. If there's a place in Naples that's close to your heart (thanks to Ferrante), which one would you pick?

In the fourth book, there's a scene where (spoiler alert) Elena is surprised to see one of her childhood friends revealed to be transgender. The text says "he looked as though he were about to set off on the road to the Black Madonna of Montevergine." This is one of those details that I know most people glossed over, including most Italians -but it's one of my favorite places in Italy.
About 30 miles east of Naples is a lush mountainous region, there is a church at 4,000 feet above sea level with a sanctuary called Montevergine and shrine of a Black Madonna.
In addition to this being an important site for Catholics, it's also sacred to the transgender community who make annual pilgrimage there as she is considered their protector. It's a stunning place, one that feels very ancient and deeply peaceful. It's also fun to ride the funicular up the mountain to reach the church.

5) Thanks so much to the two of you for sharing your thoughts. How can we be part of the Feast on History community??

Right now we have a very robust online program called Feast Online with monthly cooking classes, live wine tastings and art history classes. You can join us there or in Italy (hopefully this fall) for Naples and Elena Ferrante with a Feast on History. Check out more on our website or on Instagram and Facebook.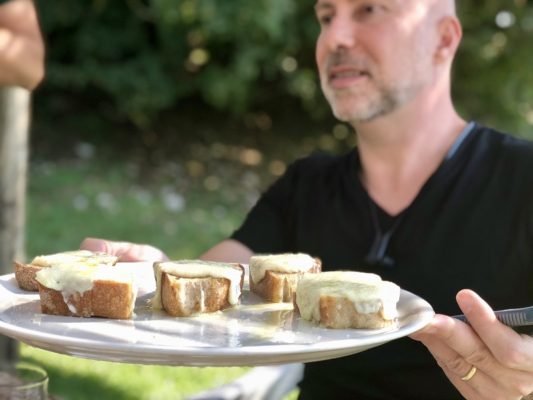 Further Reading:
Pin this Post: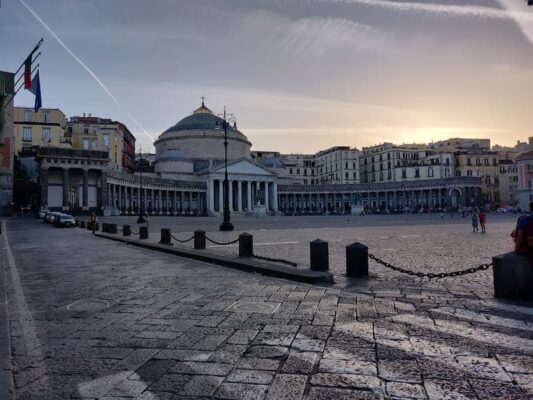 Here we are at last. The Italian proverb says "See Naples and die" but I say, see Naples and live; for there seems a great deal worth living for.

Arthur John Strutt
Book a Tour: