Years ago, I was introduced to Jan Morris's writing in a bookshop in Trieste. Not only did I devour her book "Trieste and the Meaning of Nowhere" but also found an old copy of her travelogue "Venice" in the days to follow. It was almost as if the universe was working to give it to me! When I heard the news of the Welsh writer passing away on 20th Nov, I felt sad, like it was a personal loss. Her writing was immensely rich and exceptional, a terrible news to the writing and Italophile community. So I re-read some of her works and found the most extraordinary quotes on Venice.
Get ready to lose yourself in Venice with these quotes by Jan Morris!
10 Extraordinary Quotes on Venice by Jan Morris
Venice depends for her longevity upon the long line of islands, artificially buttressed, which separate the lagoon from the Adriatic, and keep the sea storms away from her delicate fabrics.
The city crawls with lions, winged lions and ordinary lions, great lions and pretty lions, lions on doorways, lions supporting windows, lions on corbels, self-satisfied lions in gardens, lions rampant, lions soporific, amiable lions, ferocious lions….
Venice stands, as she loves to tell you, on the frontiers of east and west, half-way between the setting and the rising sun.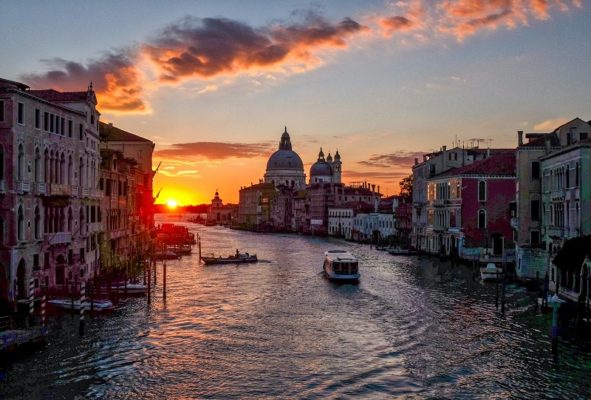 Venice is a gossipy provincial city, where your movements are eagerly observed and your visitors adroitly analysed.
Venice is a maze of alleys, secluded courtyards, bridges, archways, tortuous passages, dead ends, quaysides, dark overhung back streets and sudden sunlit squares.
Nobody will deny that tourism is part of the Venetian mystique. The Piazza is better, livelier, lovelier for its garish summer crowds.
The gondola is a vehicle of beautiful locomotion, the smaller craft of the canals move with a staccato daintiness, and often you see the upper-works of a liner in stately passage behind the chimneys.
To live in Venice is one of the supreme pleasures that this world can offer.
The Venetian way is the right way, and the Venetian nearly always know best.
To see the Serenissima without her make-up, try getting up at three in the morning one foggy February day, and watch the old lady reluctantly awakening.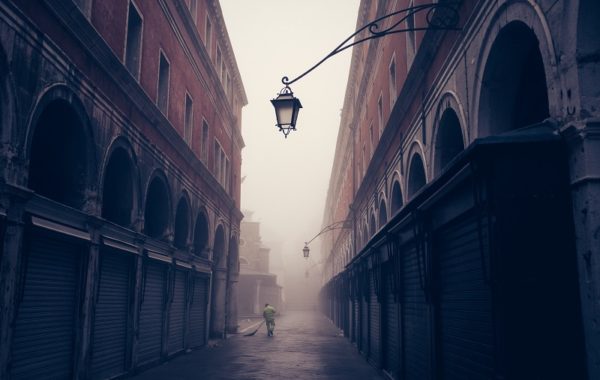 Cover photo by Federico Beccari
Which one of these quotes resonated with you most??
Pin this Post:
Further Reading:
Venice: Pure City by Peter Ackroyd