If you're looking for a book set in the Amalfi Coast dive into Secrets in Translation by Margo Sorenson. A delightful book set in Positano, the story takes you to the sights and smells of the town, amid lemon groves and limoncello production. I'd be lying to you if I said I wasn't dreaming of Positano the whole time reading the book!! Now that I've seen the cliffside village myself, I will be re-reading parts of the book just to take myself back.
Secrets in Translation: A Synopsis
The story of Secrets in Translation begins with the protagonist Alessandra (Alex) and her identity crisis. Despite having spent much of her early years in Italy, Alessandra strictly prefers to keep her identity "American". She chooses to be called "Alex" instead of Alessandra.
When she learns that her parents have planned her to be babysitter for a 12 year old girl, Alessandra is in denial and shock! What is mortifying is that Alessandra has to go to Positano with this young girl and her family.
Now who wouldn't agree to babysit in the Amalfi coast!?
I know I would!
But Alex wants different things. She wants to stay put in America and be with her friends. She does not want to babysit, let alone visit Italy!
According to her, it is an awful choice because "why would anyone leave the comforts of America??!".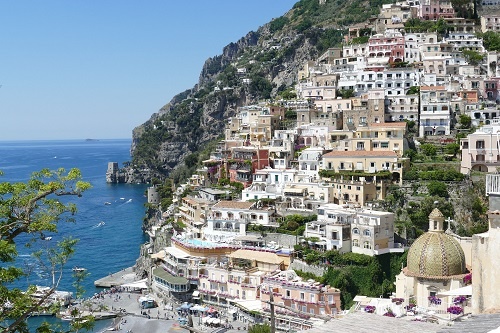 Delightful Book Set in Amalfi Coast
Once Alex begins to "babysit" she realizes the 12 year old is tougher and spoilt than she imagined. Then Alex changes her strategy and starts to be patient and sensible about the situation.
On reaching Positano, she finds herself feeling irritated when she is being introduced as "the translator"! She hates that the Americans depend on her for understanding of the local life in Positano.
But as time goes by, she notices how much she missed expressing in Italian. Amid crumbling castles and crazy drivers of the Amalfi, Alex slowly accepts her new self and becomes comfortable in dual identity.
She realizes that Italian had always been alive in her and so she feels free to make new friends in Positano. But that's not all, you'll have to read the book to find more! (No Spoiler Zone)
Final Thoughts
All in all, Secrets in Translation is a delightful summer read set in the Amalfi Coast. It is loaded with crazy plot twists and has all the makings of a good novel. If you're dreaming of Italy and want to virtually visit, read it!
The Italian language, scenes of small town life, stereotypes and breathtaking views- all make it a perfect beach read.
What is even better is that Margo Sorenson describes Positano beautifully, almost like a love interest.
You'll find yourself feeling invested in the book. I especially love the character development along with the moka pot rituals, customary Italian greetings and tantalizing seafood which is sure to transport you to a summer in Italy!!
Have you read any interesting Italy based books?? Share some recommendations!
Futher Reading: