If you only have a couple of days and are looking for things to see and do in Parma here's a walk you could take in the historic centre. Parma is a compact town and you can see the main sights in a short time. There's a lot left to see but then that's a reason to return.
What to See and Do in Parma:
Duomo di Parma (Parma Cathedral):
Built in the Romanesque style from outside with an interior in baroque style, Duomo di Parma is a marvel! I'm especially talking of the inside because I saw it many years back on TV and was simply blown away. I just knew that I had to visit it in person!!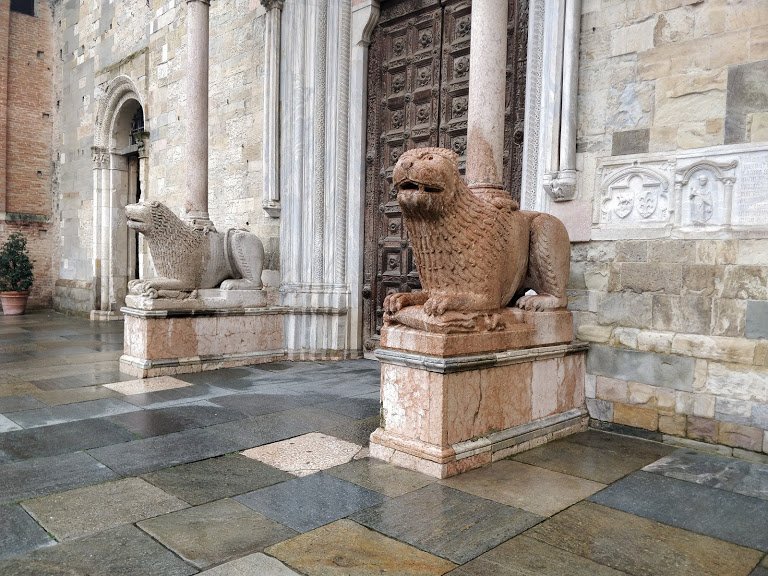 Thankfully during my visit to Parma, I had an excellent tour guide from Comune di Parma, who not only gave a great tour but also recommended spots for eating and drinking.
With Antonella Ramazzotti from Comune di Parma, I first stopped to see Correggio's illusionist frescoe of The Assumption of Mary. Completed in the 16th century, Correggio's work of art is the cupola of the Duomo and is one like I've never seen.
Talking about it makes me feel insignificant and I'm not even sure I can explain it. I guess there are some things you just can't express in words??
All I can say is that my husband and I were simply blown!!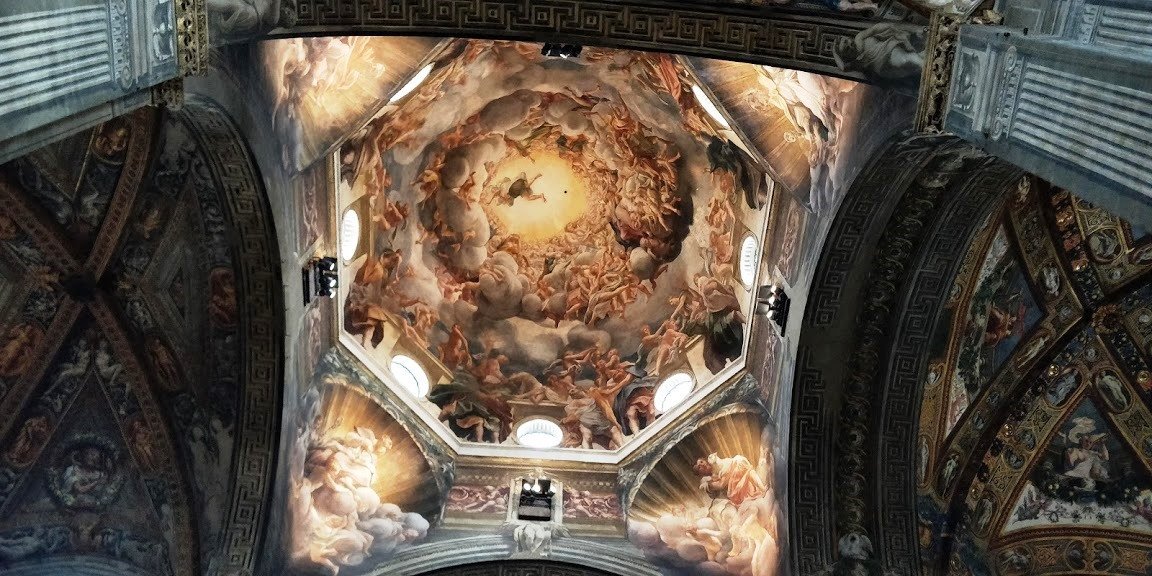 Battistero di Parma (Bapistery of Parma):
Right next to the Duomo, is the Bapistery or Battistero of Parma- a unique octagonal shaped structure that is one of the most important Medieval European monuments. Antonella told us there were audio tours available for the Bapistery but we preferred her. The pink Veronese marble used inside is gorgeous as are the frescoes. There are three entraces to the Gothic Bapistery and a part of it is currently in restoration.
A ticket of the Bapistery + Diocesan Museum costs EUR 8.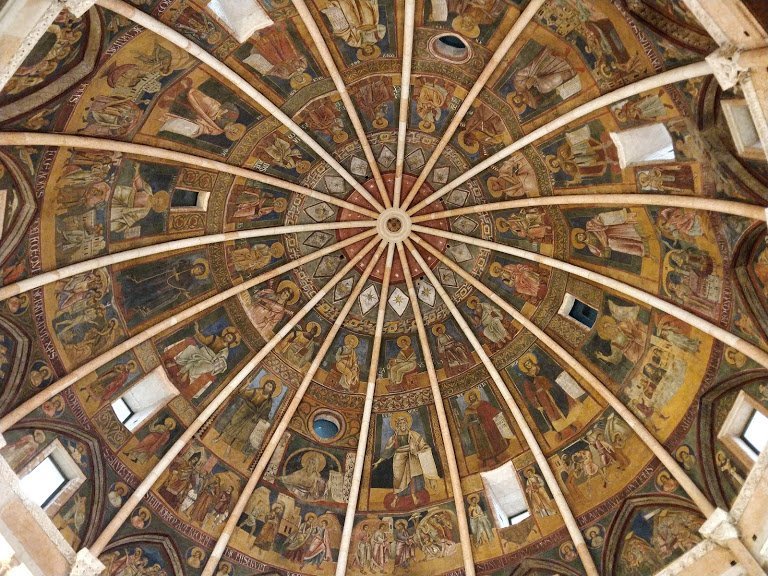 Piazza Garibaldi (Square of Garibaldi):
Piazza Garibaldi is the heart of the city. There are streets going to different parts of the city and the main road linking to other Italian towns. Piazza Garbaldi in Parma has a remarkable statue of Giuseppe Garibaldi looking across at the square. There's a very interesting astronomical clock tower too.
This slideshow requires JavaScript.
Palazzo della Pilotta (Pilotta Palace):
Built in the 16th century, the Pilotta Palace is a grand structure that gives a feeling you are in a movie set from the 50s. It's right by the main road and consists of the National Gallery and the Farnese theatre. Major parts of the Palace were destroyed by a horrible bombing in the 1930s. Although the palace is quite beautiful in the day, I found it disturbingly eerie at night. I guess the fog added to the drama.
Teatro Regio (Regio Theatre):
Teatro Regio is a very important theatre of Italy. I guess a lot has to do with the fact that Giuseppe Verdi was from Busseto, near Parma. It sort of makes it mandatory to have a great theatre in the region. No?? Teatro Regio hosts an annual Verdi festival every October.
It is a pity that I crossed the theatre twice but found it closed for lunch both times. It does look stunning in the pictures and I hope I can find it open the next time! There's a lovely Cafe right inside worth venturing into.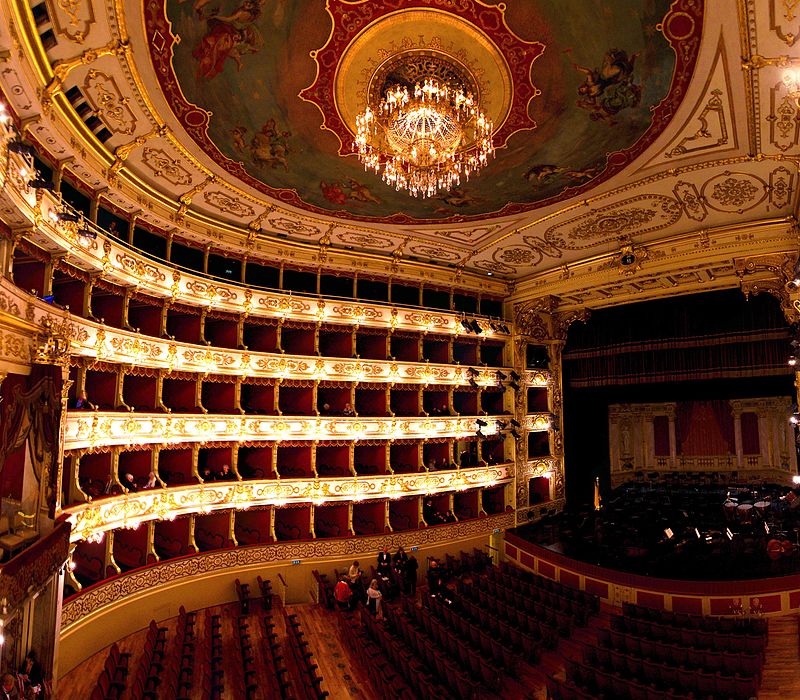 Palazzo Ducale (Ducal Palace):
The Ducal Palace of the city is set in a gorgeous open space. You can walk across from one of the city and reach the other side where the Palace is. People come to run, walk and relax here. The Palace is currently closed for visits but the park alone is worth visiting.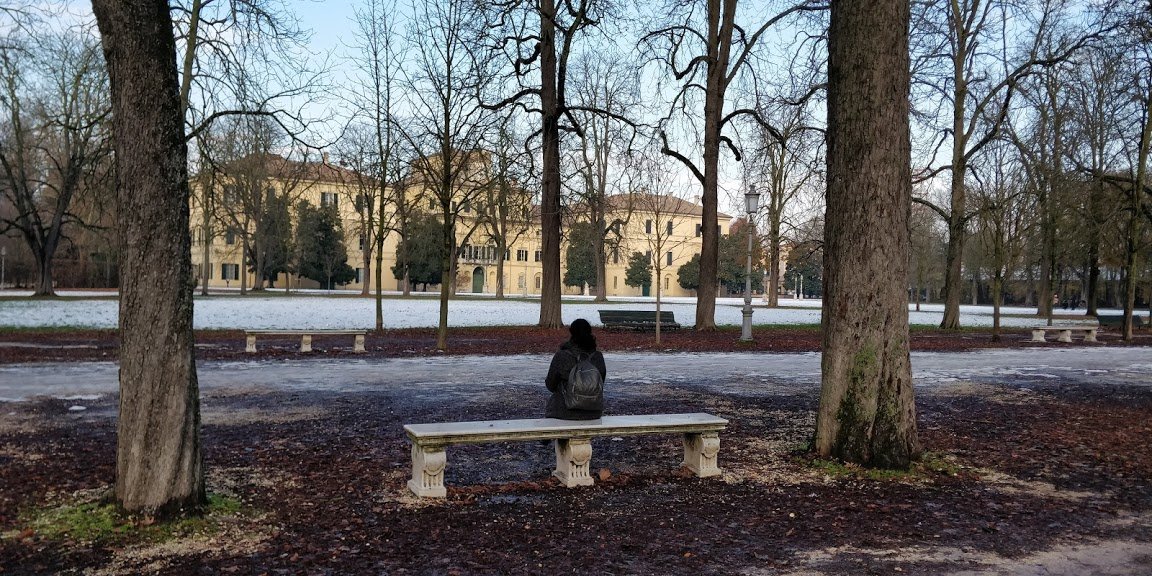 This slideshow requires JavaScript.
Disclaimer: I'm deeply grateful to the team of Comune di Parma for being such great hosts and offering this tour for free. I especially want to give a mention to my lovely guide Antonella who took the time to tell us the details of her region and even recommended excellent spots for eating!
Have you been to Parma??