Is it worth traveling to Italy for Christmas! Yes, yes! Because Italy does the most gorgeous Christmas light displays I have ever seen. There are no dearth of pretty streets in the country and to top it all, during Christmas they have an astounding display of lights and decor! Christmas lights in Italy are put up somewhere around early to mid November (depending on the town/city) and are usually up until mid January. These holiday lights really magnify the atmosphere of the festival. There is an indescribable romance and coziness in the air and the markets and piazzas look twice as nice. The sparkle of a Buon Natale which means Merry Christmas in Italian.
Christmas Lights in Italy
When my husband and I were traveling to Italy on our honeymoon, we came across fabulous light displays in different parts of Italy. The glitter, glamor and magic that Italy brought in our X'mas was unprecdented. Here are some of my favorite Christmas displays across 3 cities:
CHRISTMAS LIGHTS IN ROME:
A Christmas Tree near Termini
A starry evening in Trastevere
A colorful display near Piazza del Popolo
A quiet evening in Rione Monti
CHRISTMAS LIGHTS IN BOLOGNA:
Lucia Dalla's song lyrics "L'anno che verra`":
An antique bookstore since 1928
CHRISTMAS LIGHTS IN PARMA:
The magic of the carousel
Inside a dream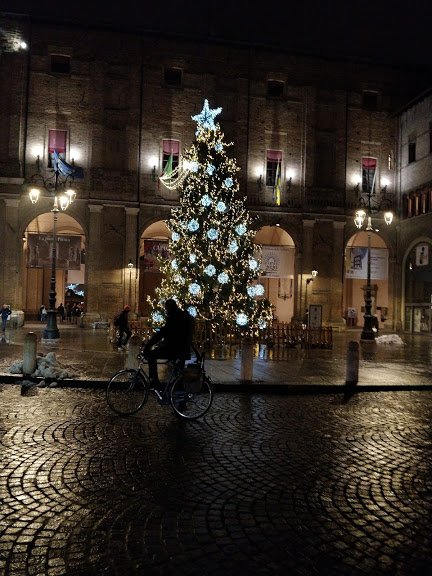 A VERY MERRY CHRISTMAS!
BUON NATALE A VOI!
Further Reading:
Also read:
Christmas Lights by The Local Italy
Pin this post: