Are you looking to travel deeper on your next Italy trip?? Visit Vicopisano-an unmissable Tuscan village located 45 minutes from Florence. Surrounded by a landscape of pine-covered hills and olive groves, Vicopisano is situated on Monte Pisano between the cities of Pisa and Lucca. This Tuscan village is the perfect base if you are looking to travel beyond the guidebook recommendations! Vicopisano is also home to Marie and Lorenzo from Authentic Tuscany. Owners of the gorgeous 11th century apartment Casa Colomba, the two have made a collaborative post on their village Vicopisano -an unmissable Tuscan village!!
Vicopisano-an Unmissable Tuscan Village
History of Vicopisano & Brunelleschi:
Vicopisano is popular because of its direct connection to Florence. The engineer and architect Filippo Brunelleschi who designed the masterpiece dome of Santa Maria Del Fiore (Duomo of Florence!) also designed La Rocca di Brunelleschi or Rocca Nuova in Vicopisano.
Under the instruction of the powerful Medici family, Brunelleschi was directed to fortify the strategically located town of Vicopisano. He built an ingenious impenetrable fortress which was designed to trap and repel the enemy. But in doing so, he destroyed 70% of Vicopisano's beautiful medieval buildings including ancient churches, palaces, towers and houses. He almost completely obliterated the Medieval skyline of the village which had once rivaled that of San Gimignano!!
It's a pity that the reason for this destruction was to offer a clear vision across the landscape, should the enemy dare to approach! Due to Brunelleschi's intervention, many of these tower houses are not obvious at first sight. But on a closer look, the crumbly facades really tell the layers of time!!
Brunelleschi's masterpiece is part of the skyline of the town along with 13 of Vicopisano's ancient towers.
Vicopisano Today:
Vicopisano is a tranquil place and the perfect location for those looking to 'experience life like a local'. The town has a central piazza with a charming village fountain, bars, an artisan ice-cream shop, a butcher, a baker and grocery stores. Vicopisano also boasts restaurants within walking distance of the medieval centre.
Apart from a genuine ambience and friendly locals, visitors can also discover hidden lanes, ancient piazzas and Medieval towers.
A Town of Festivals:
Despite Vicopisano's sleepy appearance, it is the town of many festivals!
The festival season kicks off in April with 'Festa dei Camminanti'. This is a unique 3 day hiking and trekking festival with over 80 free activities. There are guided treks in and around the hills of the Monte Pisano along with yoga classes amid olive groves. In the evenings, there are a line of street food vendors in the main piazza. Musicians also strike up a chord to entertain the walkers and hikers.
The month of May is dedicated to the festival full of color and culture known as 'Castello in Fiore'. This is a 2-day event where florists, horticulturists and garden designers show their floral displays. Visitors get the chance to buy anything from a humble house plant to an ancient olive tree! Later in the months of June and July there are small summer events over the weekends. Like most village festivals there is the opportunity to dine al fresco and dance under the stars in the evenings. By far the most popular of these is the 'Cena Sotto le Stelle'. This is a local dining experience but if you just happen to be visiting you will be welcomed! The town is filled with stretches of long wooden tables on the main street of the historic centre!
The event is similar to being on a set of a Tuscan movie. About 400 locals dine al fresco together under the stars!
What to See & Do in Vicopisano
Festa Medievale in Vicopisano:
It's not yet over….
The biggest festival in the town is Festa Medievale which takes place on the first weekend of September every year. Vicopisano attracts thousands of visitors and gives them a chance to step back in time. At approximately 4 p.m. on a Saturday afternoon, the little hamlet throws open the gates of the medieval centre to the sound of trumpets and drums. Subsequently, there is a parade of Tuscan flag throwers known as Sbandieratore. The party continues until the early hours of the morning!
For those looking to delve deeper into the medieval experience, there is an al fresco banquet held in front of Brunelleschi's fortress. It is possible to book this dinner for a truly memorable experience. Even if you do not manage to book your place at this prestigious banquet, there are still plenty of taverns serving dishes inspired by medieval times!
Imagine torch lit alleys and spiced wine mingled with cobbled streets and huge towers!! Vicopisano is really an unbelievable Tuscan village you don't want to miss!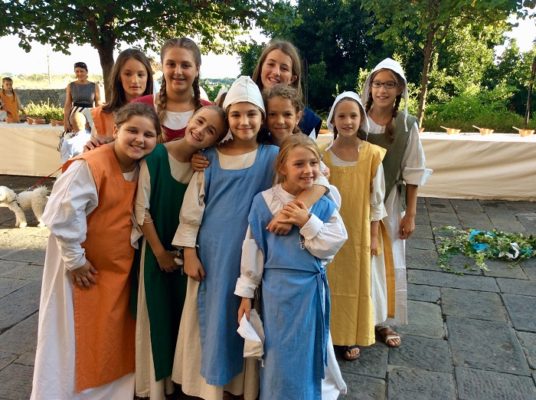 Antique and Collectors Fair:
Another popular event in the town is the local Antique and Collectors Fair every second Sunday of the month. This also coincides with guided tours at Brunelleschi's fortress!!
La Rocca di Brunelleschi:
Brunelleschi's fortress or 'La Rocca di Brunelleschi' is open to visitors at the weekends. There are guided tours of the Rocca. Check timings before you visit:
April to November:
Saturday 3pm – 7 pm; Sunday 10am – 12pm and 3pm – 7pm
December to March
Every 2nd Sunday of the month; 10am – 12pm and 3pm – 7pm
entry: Adults: €7; Children under 10 years old: Free
Where to Stay in Vicopisano
Last but certainly not the least, where can you stay in Vicopisano?? Contact Marie and Lorenzo of Authentic Tuscany who are owners of Casa Colomba!!
Casa Colombo is a romantic Medieval tower house in the historic centre of Vicopisano. It is available to rent all year round. Marie and Lorenzo are always willing to help organize and get the most out of your trip, they even book a place at the Medieval banquet for you! Follow them for delightful Tuscan stories on Instagram!
Further Reading:
Pin this Post:
So tell me, are you dreaming of a getaway to Vicopisano??
Also check out tours in Pisa: