One of the most striking piazze in Rome is the Piazza della Rotonda. Home to The Pantheon, the piazza is almost always full of people- locals and tourists alike. The architecture, art and food, all make it a great spot to be in Central Rome. As always goes with things in the Eternal City, the piazza has a history. Taking that thought further are 5 Incredible Facts about Piazza della Rotonda, Rome.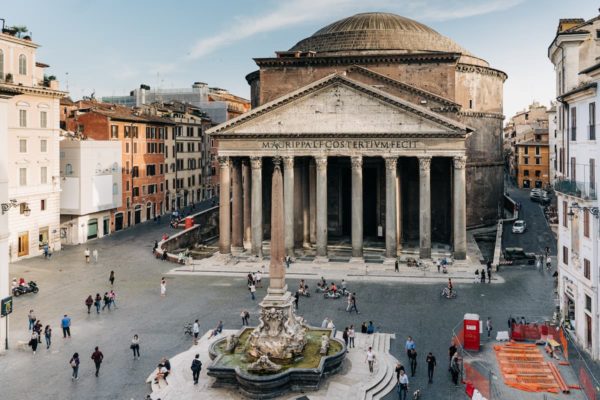 5 Incredible Facts about Piazza della Rotonda, Rome
1. Name derived from the Pantheon
The name Piazza della Rotonda is derived from the Pantheon. (Rotonda means circular or a roundabout like the Roman temple)
Piazza della Rotonda in Rome is home to the Pantheon- an ancient Roman temple that has stood the test of time for almost 2000 years! This Pantheon adds a vibrancy and a layer of mysticism to the Piazza della Rotonda.
Additionally, architects such as Filippo Brunelleschi found inspiration from the Pantheon while great painters such as Raphael are buried here.
2. Home to Fontana del Pantheon
Another incredible fact of the Piazza della Rotonda is that it is home to the Fontana del Pantheon. A scintillating fountain laden with dolphins, Fontana del Pantheon is right in the middle of the piazza!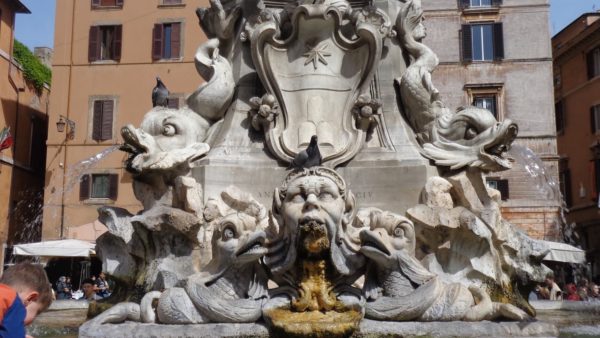 The fountain, however, has changed over the centuries. Commissioned by Pope Gregorio XIII to Giacomo Della Porta in 1575, it changed from Porta's architectural design days.
In 1711, as per Pope Clement XI Albani's will, a red marble obelisk was installed at the fountain. This Egyptian obelisk is called Macuteo and is 20 feet high!
3. The unique "Madonnella" from 18th century
A unique thing to note in Piazza della Rotonda is the large fresco of Mary. Madonnella as it is rightly called, overlooks the gorgeous piazza and occupies two floors of a building.
Furthermore, this shrine of Mary is rare. Not only is it the most photographed in the city but also is above a popular Salumeria.
4. Houses the oldest hotel in Rome
Another incredible fact of the Piazza della Rotonda is the 15th century Antico Albergo del Sole. This is the oldest hotels in the city that has a spectacular view of the piazza.
Until 1613 the hotel was named "Locanda del Montone".
It now is on my list of places to stay in the Eternal City. Add to yours too!
5. The piazza was criticized by a travel writer
This is not a well known fact but truly is one of the most bizzarre!
Piazza della Rotonda was criticized by a popular English travel writer called Charlotte Anne Eaton. She wrote about her travels in Rome in the 19th century and published anonymously under the name "Rome in the Nineteenth Century".
An excerpt from her book:
"Surrounded by all that is most revolting to the senses, distracted by incessant uproar, pestered with a crowd of clamorous beggars, and stuck fast in the congregated filth of every description that covers the slippery pavement … Nothing resembling such a hole as this could exist in England; nor is it possible that an English imagination can conceive a combination of such disgusting dirt, such filthy odours and foul puddles, such as that which fills the vegetable market in the Piazza della Rotonda at Rome"

Charlotte Anne Eaton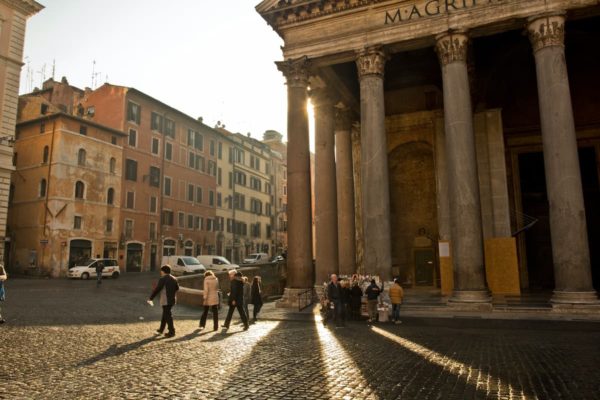 Where to find Piazza della Rotonda
Which of these facts caught you by surprise??
Read Also:
5 Ancient Remnants of Ancient Rome
Pin this post:
Book tours in Rome:
Disclaimer: this post contains affiliate links, which means if you buy something from these links, I will receive a tiny commission at no extra cost to you. Thanks for supporting!