Le Marche is the Eastern Italian region that is unique and gorgeous and super underrated. If you are looking to be a little off the tourist radar, Le Marche should be on your list. There is so much to do and see here that time is always short. But you can always keep going back like I did 😉 Here are 5 unique and unmissable experiences in Le Marche that I recommend you to experience. From visiting a historic ceramic store to a block printing studio and dinner with locals, Marche has it all!
5 Unmissable Experiences in Le Marche
1. Visit Antica Stamperia Carpegna:
One of the most unmissable experience in Le Marche was visiting the block printing studio of Emanuele Francioni. The art of Block printing is not new to me as India is a big hub for block printing designs. However, I never thought I would find it in a small town of Marche. 
Situated in the old town of Carpegna, Emanuele's studio is next to the Montefeltro mountains. As soon as you enter you can smell a mix of vinegar, flour and rust! Emanuele's family has owned this studio and the legacy of block printing from the early 1900s. The studio passed from one generation to another is a true gem of a find.
Emanuele is a kind soul who will gladly show the process of block printing. It was fun to chat and know more about the history of the area from him.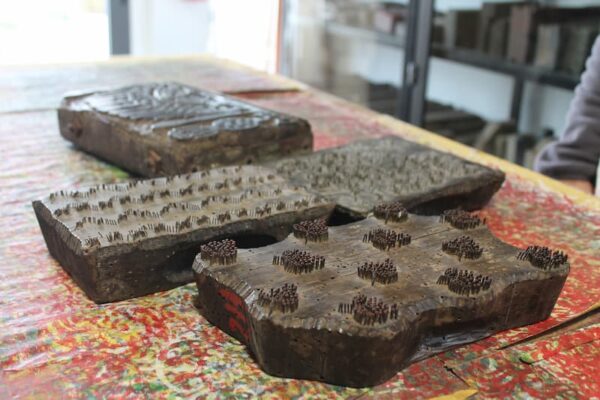 Emanuele distributes his products in many towns in Italy and few other countries of Europe. For more information write to info@anticastamperiacarpegna.it
2. Explore Urbania's Medieval Ceramic Store:
Another unmissable experience that I had in Le Marche was a visit to the famous ceramic store – L'Antica CastelDurante. Situated in the town of Urbania, this historic store has preserved the ancient Renaissance art and designs from over centuries ago.
The owners of the store, Gilberto Galavotti and Giuliano Smacchia, are two passionate art enthusiasts who have learnt the majolica technique and opened the world of art in an entirely different way! I absolutely adore crockery and ceramics in general so visiting this store gave me a high. It was a unique experience and I'd love to go back and watch them paint.
L'Antica CastelDurante was founded in 1995 and aims to reproduce the classic period of Urbania's art. (Urbania was previously known as Casteldurante). For more information visit their website for some exceptional designs!
3. Eat with Locals at a River Mill:
Imagine the consistent sound of the river, lush green garden and fresh food at your table. My experience of dining at a mill was exactly like that!
I highly recommend this experience at "Il Mulino della Ricavata" -a mill located close to Urbania and owned by the couple Anna and Gianfranco.
While the mill was restored back in 1998, it was only a few years ago that it became a Bed and Breakfast. Anna is the Masterchef who brings heartwarming local produce to the table while Gianfranco takes care of the guests. I am grateful to them for a warm and hospitable evening. 
Dining in their home was very special and a great experience in Le Marche. If you are ever in this part of Le Marche, support them by booking a room here. 
4. Dinner at Palazzo Mucci:
Another unmissable experience in Le Marche was eating in a village called "Jostaria". A local's secret, this agriturismo is away from the city life and known for their delicious service and food.
The owner is the most kind hearted soul and a wizard in the kitchen. He delivered the best of regional cuisine and was also extremely patient. For more information on booking and the restaurant visit their official website.
5. Aperitivo with "9 Men" of Academia del Padlot:
Another unique thing to do in Le Marche is to visit the town of Mercatello sul Metauro and have a foodie experience with 9 men. This group of 9 men are founders of Academic del Padlot and focus on regional food and wine. They cook, drink and spend evenings together in an insightful way.
Thanks to the Palazzo Donati , Lanfranco Pagliardini and "Academia del Padlot" for this experience. 
Hope you enjoyed these 5 unusual experiences in Le Marche! I stand by my saying that it is the people who make my Italian travels so memorable and fascinating and had I not found such amazing people, I would have never known Italy for what it is.
Further Reading:
Pin this Post: