Just around the corner from the bustling Piazza Navona in Rome is the Fountain of Books (Fontana dei Libri). It is located on Via degli Staderari and is a perfect spot for bookworms. Fountain of Books is in an unexpected alley of the Eternal City that almost makes it mystical.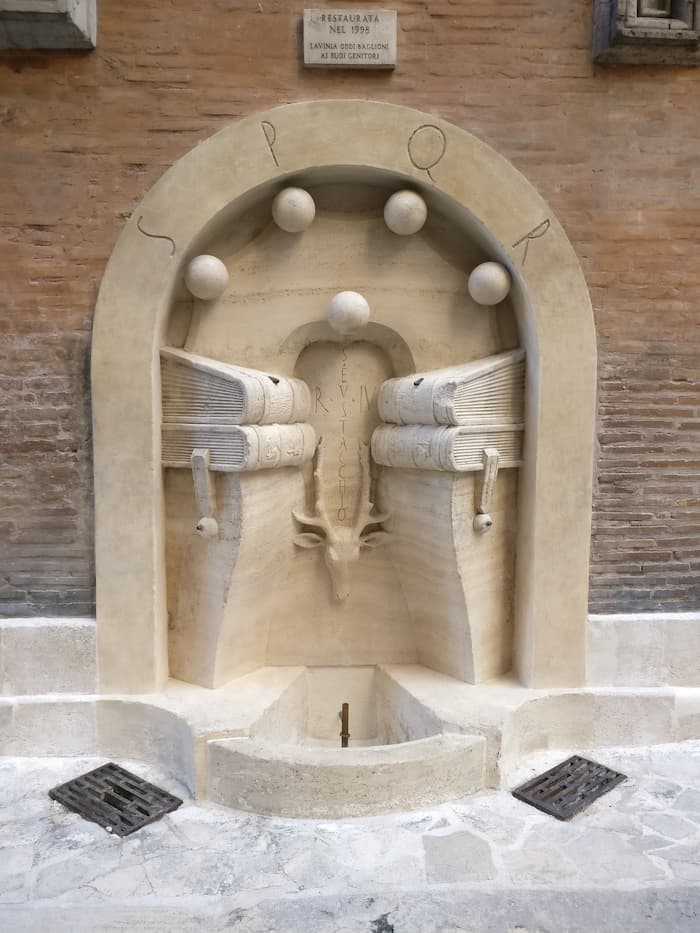 Fountain of Books in Rome- Perfect Spot for Bookworms
The Fountain of Books was built in 1927 by Pietro Lombardi and is behind the imposing Palazzo Madama. This is yet another Roman fountain that is extremely impressive and splendid to look at.
When the water gushes out of it's antique bookmarked openings, it seems some sort of sorcery!
Antique Books in a Fountain
The four stone books in the fountain represent knowledge and are a reference to The Sapienza University of Rome or La Sapienza. These antique books are so lifelike that one feels the need to leaf through them!
Magnificent Deer Head
Meanwhile, the deer's head is symbolic to the Roman neighborhood of Saint'Eustachio. It is on their coat of arms and furthermore part of the legend of Saint Eustace who is believed to have heard Christ in the semblance of a deer.
While The Fountain of Books is neither as popular nor as grand as the other well-known structures of the city, it is surely worth checking out. I chanced upon the Roman fountain when it was restored in 2018 and vowed to return with a bibliophile, after all this is a perfect spot for bookworms.
Drinking water coming out of books?! That is definitely magic beyond words. What do you think??
Further Reading:
This art mystery is inspired by another Roman fountain
Where to find the Fountain of Books (Fontana dei Libri):
Don't forget to PIN this post: