Turin is a fascinating and underrated Italian city. There are several things in the city that you can do without spending money! Yes, if you're on a budget and want to admire Turin without spending a Euro, here are 5 things you can do in Turin, for free
5 Things to do in Turin for FREE
1. Go back in Time at Piazza Castello
One of the most amazing things about Italian towns is that they all have a central piazza. In Turin, Piazza Castello is a gorgeous piazza in the heart of the city. Visiting this piazza is almost as if you have stepped back in time. You can almost imagine yourself walking with the Savoys! 
Piazza Castello is popular and always full of people as it houses the two of the most important palaces- Reale and Madama.
Get yourself a gelato and sit on any of the benches at the piazza. La Dolce Vita!
2. Admire the Valentino Park
When in Turin, don't miss visiting the Valentino Park (Parco del Valentino) to rest and take a break. The park also includes the Borgo Medievale (the medieval village) and Castle of Valentino (Castello del Valentino). The former is a "newly constructed medieval village" while the latter is a French styled castle turned university.
There are several events and exhibitions here and its great to simply see the Castle from afar for FREE!
3. Visit Grand Balôn
Turin is full of interesting things to do and Grand Balon is one of the places I'd recommend you to visit. If you are a fan of all things antique, Grand Balôn is our market to go to. It happens on every second Saturday of the month. I timed my visit around a lot of events and Grand Balôn was one of them.
Make sure to keep a few snacks handy or have breakfast before you visit. 
4. See the city from Monte dei Cappuccini
If you are a sucker for views, you should certainly visit Monte dei Cappuccini in Turin. The path to visit here is simply walking straight from Via Po towards the other side of the bridge.
This is another thing you can do in Turin for free. Here you can also see the city's stunning skyline and visit the 16th century Santa Maria del Monte. On a clear day, you can see the Alps from here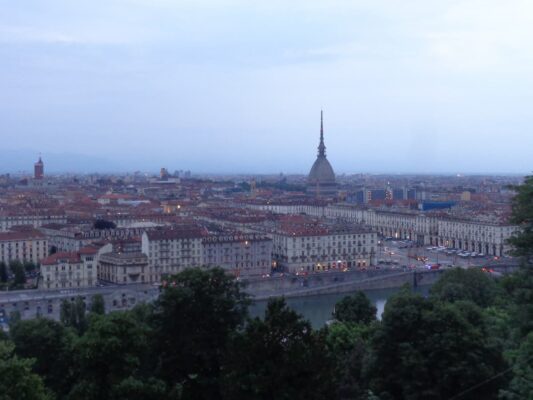 5. Stop at a Historic Shop
It doesn't cost a penny to go to a historic shop to look around. Learn more about Turin's historic shops (and there are plenty) whether it is one of the oldest crystal maker – Prochet or Menietti- the oldest suppliers of brewing and wine making. It is fascinating to see these stores preserve the same method and process since decades.
Did you know CNN along with Stanley Tucci were in Turin in November 2021. The team traveled across the region of Piemonte for the shooting of the popular show Searching for Italy. Read this article for more information.
Further Reading:
Pin this Post:
Hope you enjoyed this post on free things to do in Turin!! Tell me which one was the best?? Check out this beautiful 4k video of the city.