Turin, often known as the Paris of North Italy, is an underrated and under-visited city. If you haven't heard of it, check more about the city in this post here and here. Turin (Torino) is a heaven for all the food enthusiasts and coffee lovers, after all it is from this part of Italy where great companies such as Ferrero, Lavazza, Fiat etc. originated! So you can only imagine the fantastic choice of food and drinks in the city. Here is a list of 11 such places that I explored where you can eat and drink the best in Turin.
Where to Eat and Drink in Turin
There are several eating options available in Turin from quick cheap eats of pizza by the slice, focaccia or ciabatta to a more sophisticated dining experience of being in family run food restaurant and ornate coffee houses. I'm exploring a mix of everything here:
1. Osteria in Vino Veritas:
If you are looking for a range of Piemontese wines, cozy atmosphere and fresh agnolotti (typical pasta from the Piemonte region), head to Osteria In Vino Veritas (in wine there is truth). It not only stays true to its name but also has the most homely atmosphere behind the busiest street of Mole Antonelliana.
Via Giulia di Barolo, 50/A.
2. Caffeteria Reale:
Thanks to Lucia's blog I found out about Caffeteria Reale which seems to be in the Royal Palace but unknown to a regular traveler. Popular among locals, Caffeteria Reale has a great selection of coffees and china. An embellished linen and classy setup always is a big win for me. If you're in Turin, definitely visit Caffeteria Reale for a quick drink. Easy on the pocket too!
Piazzetta Reale, 1
3. Baratti & Milano:
Another great find in Turin (thanks to Lisa from ItalianKiwi) is Baratti & Milano. This places comes highly recommended for excellent caffe`, chocolates and candies. It is also a great place to pick gifts for home.
Piazza Castello, 27
4. Pastificio de Filippis:
I went here just for a quick lunch but ended up staying longer. Filippis is bang in the middle of the busiest street and serves the yummiest Piemontese food. Highly recommend you to try their gnocchetti and pair it with a glass of Barolo and fresh salad.
Via Giuseppe Luigi Lagrange, 39
5. La Fermata:
Another great place to eat and drink in Turin is La Fermata. If you visit here, go Ligurian and focus on the Farinata. The place is much more modern compared to all other places in Turin. It has free WiFi and a relaxed service. The Caprese salad is equally good and worth trying!
Via Giuseppe Mazzini, 6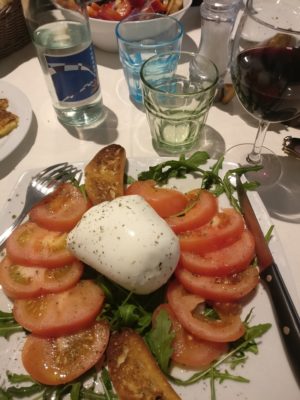 6. Arsenico e Vecchi Merletti:
Arsenico e Vecchi Merletti is a fabulous place to eat and drink in Turin. Not only is it away from the crowds but also less known amid travelers. Arsenico's service is quick and food delicious, especially their gnocchi and fresh breads. (Arsenico e Vecchi Merletti is the name of a movie)
Via Sant'Agostino, 30
7. Pasticceria Gertosio:
A great choice of a place to eat in Turin is Gertosio. Trust me, I went here every time I was there in the city and tried a different pastry every time. The man behind the counter started recognizing me and he would say something like, "Dovrebbe provare qualcosa di nuova!" (You should try something new!) 
Via Giuseppe Luigi Lagrange, 34
8. Bar Abrate: 
Looking for a cool place to hang out?? Possibly with a street view of old trams and hustle of the city?? Visit Bar Abrate on Via Po famous for a fabulous aperitivo experience at a great price. You will love their elegant vibe and pastry selections.
Via Po, 10
9. Caffè Fiorio:
One of those "must try" family run places that is 3 centuries old is Caffe` Fiorio. It's marble top tables and impeccably dressed waiters will woo you as much as the selection of ice creams and bicerin. Fiorio seems to be a common name in the region as I saw the same Cafe in the town of Alba as well!
Via Po, 8
10. Delper:
Looking for fresh bread, pastries, focaccia, pizza, grissini?? Visit Delper, just around the corner at Via Garibaldi. It is packed with locals and why wouldn't it be! Delper has been serving the city since over 75 years. It is a great place for a quick bite in Turin.
Via Tolmino, 50
11. Bistrot Turin:
This is a no frills place on Turin's most happening street "Via Po". They serve authentic Piemontese food which you should ask for. The waiters would love to give you suggestions. The price isn't too high and I'm glad to have my friend Adriana who helped me choose the starters and the pasta.
Via Po, 21/B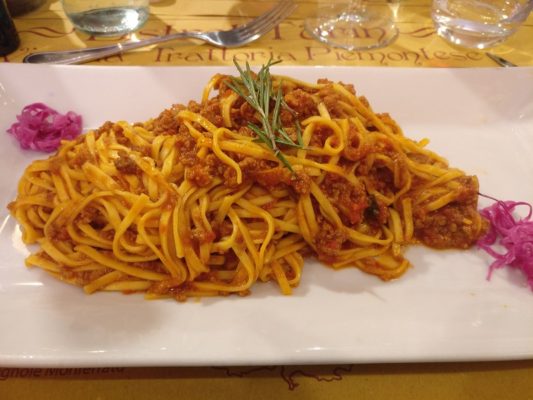 Apart from the places above, I recommend visiting any of the Gelaterie in the city. My favorites are La Romana and Gelateria Pepino. If you plan to visit Turin and the region, consider staying at B&B Vibrisse Torino.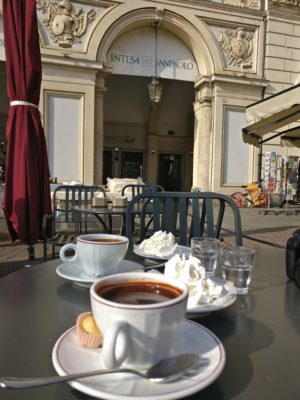 Further Reading:
Pin this post: