Only 15 minutes from the gorgeous hamlet of Tellaro is a port town called Lerici. Extremely local and colorful, Lerici overlooks the sea. It has a great harbor and a small beach that also happens to be the place where the famous English poet Percy Shelley drowned in. Shelley's home, Villa Magni, is only 10 minutes from Lerici.
Lerici is a small Italian town and there's a lot of "sightseeing" to do. By that I mean, the beauty of nature. Other than that, soak in the slow life in Italy and have a gelato or two. Lerici is a place where you go to do nothing. Being close to some lovely Ligurian villages such as Sarzana, Cinque Terre and Portovenere Lerici offers a great base for day trips. It is definitely also cheaper to stay in!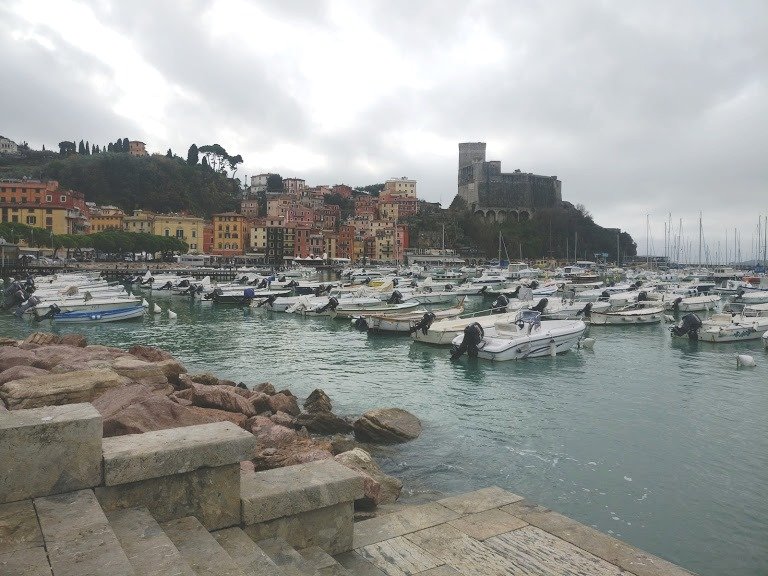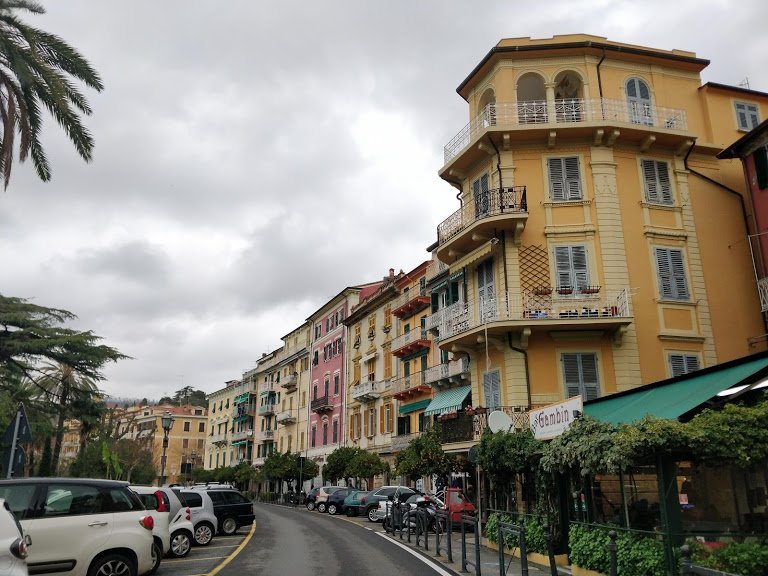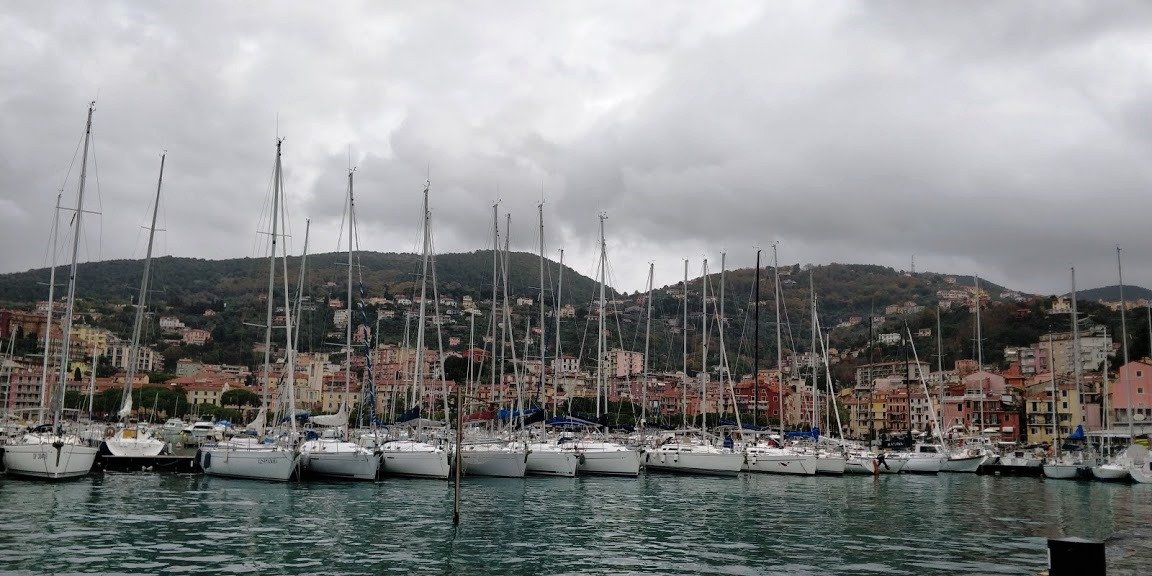 What to see in Lerici:
Gulf Of Poets:
This is unmissable because the entire Gulf is part of the town of Lerici. Gulf of Poets is stunning rain or shine and from Lerici you can see the town of Portovenere on the other side. The look and feel reminded me a little of the city of Trieste because like Lerici, Trieste is on a small hill overlooking the sea.
Castello di Lerici:
Lerici Castle (Castello) is the town's highlight as it stands old and forgotten on one side of a cliff. This 12th century castle was built by the Genovese and is a 5-7 minute walk from the centre. It was closed during Winter.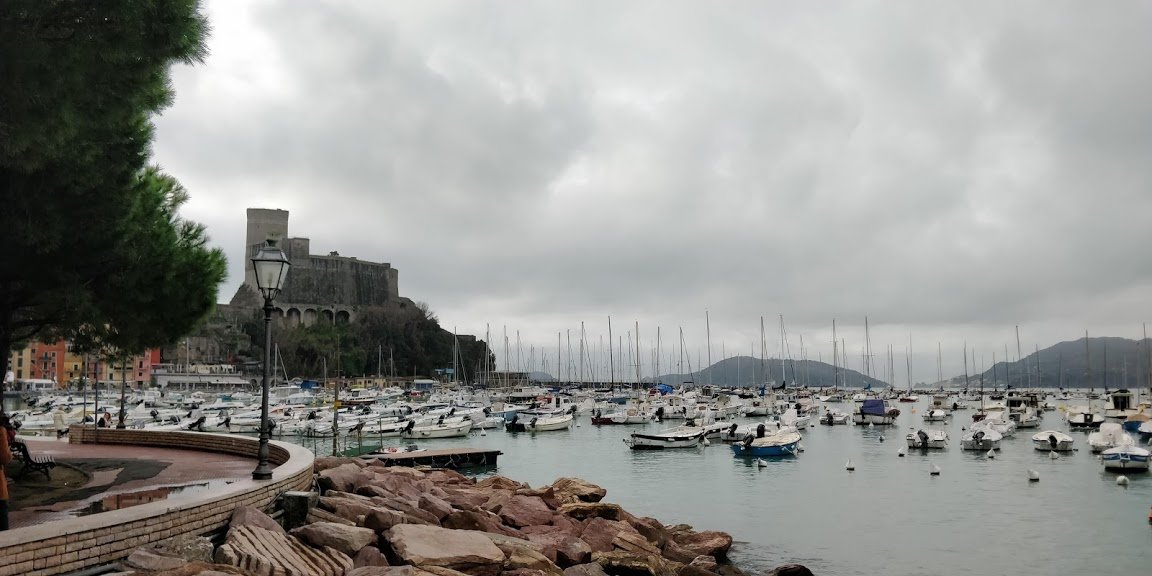 Caruggi:
If you are in the region of Liguria, the small streets or vicoli are usually called the "Caruggi". Stroll in one of Lerici's colorful caruggi and don't miss the countless restaurants by the seaside and the delicious artisan gelaterias!
Fiascherino, Sarzana & Tellaro:
These are names of small hamlets and peninsula in and around Lerici that you can drive to. For more information on Tellaro, read this post that I wrote last week. I missed visiting Sarzana but Fiascherino was a stunner!
Where to Eat in Le
rici:
Casalini Puntocaldo: Hot piping Focaccia and biscotti are to die for!
Lerici Bistrot: A great place for a delicious seafood buffet. Loved the service too.
Bar Costa: Anything from a caffe or a spritz is available in this old school bar with a view of the harbour.
Bar Il Pontile: Spritz is at EUR7 but the view of the sea is amazing and everything is worth if you are on a vacation.
Il Frontoio: Pick their antipasto al mare and enjoy it with the enthusiastic staff.
This slideshow requires JavaScript.
This slideshow requires JavaScript.
How to Reach Lerici:
Lerici is one of those towns where there's no train station so travel via train till La Spezia station. There are buses every 30 minutes from La Spezia and Sarzana to Lerici. Alternatively, in the summer (until September), there are regular ferry services that you can take from Cinque Terre and Portovenere to reach to Lerici.
Hope you enjoyed Lerici. Thanks for reading!!
If you are planning to revamp and update your website plan, do use my affiliate link to sign up with Siteground. They have the best service for website hosting and are easy and quick to work with. The can even transfer everything from your old blog to a fresh new one! This affiliate link will be at a no cost to you but I'll earn a small commission if you use this link. Thank you. Grazie mille.